NASHVILLE, Tenn. — Sikorsky's [LMT] build of its Raider X helicopter for the Army's Future Attack Reconnaissance Aircraft (FARA) competitive prototyping (CP) effort is now over 85 percent complete, with the company also having completed the build of a second fuselage.
"We're really proud of the progress. We're now at 'weight on wheels,' where we have the landing gear on the aircraft. We completed landing gear swings, both deploy and retract with the gear doors installed," Jay Macklin, Sikorsky's director of Army Future Vertical Lift and innovations strategy and business development, told reporters at Army Aviation Association of America annual conference here. "We've also begun powering the aircraft. We have power on. We're approaching the midpoint of system acceptance test procedure completion on the aircraft."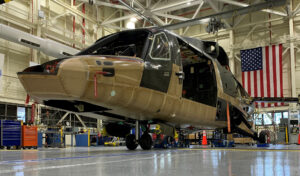 Macklin said Sikorsky's Raider X schedule remains on the path to meet the Army's goal for first FARA CP flight in the third quarter of 2023.
For FARA, the Army has selected Sikorsky's Raider X and Bell's [TXT] 360 Invictus designs for the competitive prototyping phase as it informs its program to field a new scout attack helicopter.
Bell told reporters last month its build of the 360 Invictus for FARA CP was also over 80 percent complete, and that the build structure of the helicopter minus the ITEP engine is expected to be completed around the May timeframe (Defense Daily, March 17).
Both Bell and Sikorsky are set to receive the General Electric Aviation [GE]-built T901 engine in November, with testing of the first ITEP system starting last month (Defense Daily, March 24).
Sikorsky noted the second Raider X fuselage, which was also built at Sikorsky's Development Flight Center in West Palm Beach, Florida, is being integrated into its FARA CP structural test program "and will be used to validate the flight and ground loads capability of the airframe," the company wrote in a statement.
Macklin added Sikorsky could explore continuing to build out the second fuselage into a full-on aircraft, while citing the benefits the additional asset provides for further testing purposes and risk reduction work.
"In other words, we don't have to use just the CP. We've got a second fuselage where we can do that testing. That's really going to support our flight and safety test program for the competitive prototype and provide data that feeds information as we build the CP that's going to fly. It's another tool that we have to reduce risk," Macklin said. "It also gives us an option to build it out as a second CP aircraft flying, if we choose to. It gives us that much more flexibility before we make those decisions as we go forward."