NASHVILLE, Tenn. — The Army's top acquisition official said Monday the service is "moving quickly" on the final multi-year contracts for UH-60 Black Hawk and AH-64 Apache helicopters, adding he expects those deals to come together soon.
"I think we're moving quickly. And I expect those to come very soon now that we have the FY '22 funding in hand and the authorizing language from Congress," Doug Bush, assistant secretary of the Army for acquisition, logistics and technology, said at the Army Aviation Association of America annual conference here.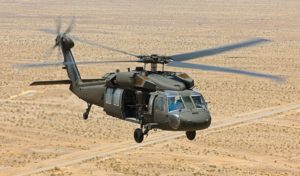 Bush said the Army exceeded Congress' expectation for associated potential savings with the multi-year deals for each of the helicopters, which helped secure support for the contracting efforts.
"We got the hardest part done first which was [getting] permission from Congress. That was last year. We presented very strong savings numbers. They generally look for at least 10 percent and we exceeded that," Bush said. "These multi-year [contracts] are a fantastic way for the Army to save resources and help the industrial base by providing predictability. And it also helps keep, what is now, a great workforce secure for many years."
Brig. Gen. Robert Barrie, program executive officer for aviation, first announced a year ago the Army was negotiating its final multi-year contracts for Black Hawk and Apache as the service shifts its priority to the Future Vertical Lift fleet (Defense Daily, March 17 2021).
For the FY '22 defense policy bill, lawmakers included a provision supporting the multi-year deals citing $234 million in potential savings for the Apache program as compared to awarding annual contracts, adding it "would facilitate industrial stability," as well as $405.4 million in savings for the Black Hawk program over a five-year period (Defense Daily, Sept. 23 2021).