The Army's recent deal to Bell [TXT] and a team of Sikorsky [LMT] and
Boeing [BA] to refine their offerings for the Future Long Range Assault Aircraft (FLRAA) program is worth $181 million, the program office told Defense Daily on Friday.
Bell received $84 million and Sikorsky-Boeing was awarded $97 million for the one-year Competitive Demo & Risk Reduction (CD&RR) phase 1 contract, with the Army planning to hold major design reviews in June 2020 and February 2021.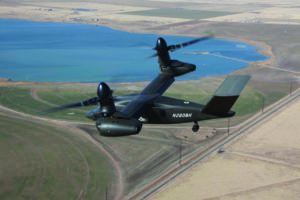 "Each project agreement will deliver conceptual prototype initial designs in a digital engineering environment, with an emphasis on the completion of upfront systems engineering activities such as requirements decomposition, trade-off analysis, risk assessments, and affordability assessments," Program Executive Office-Aviation said in a statement to Defense Daily.
The Army announced on Monday it selected Bell's [TXT] V-280 Valor and Sikorsky [LMT] and Boeing's [BA] SB-1 Defiant to move forward in the FLRAA program, with the two offerings also having participated in the Joint Multi-Role Technology Demonstrator program to inform final requirements for the UH-60 Black Hawk-replacement program (Defense Daily, March 16).
The program office noted that the difference in contract values to each competitor was due to variations in technical approaches and planned work phases.
"Although the scope of each project is similar, their proposed technical approaches; costing approaches; and phasing of work are different and unique to each vendor. We evaluated each proposal individually and awarded each OTA (Other Transaction Authority) agreement based on their own merit," the PEO said
Design reviews conducted during the CD&RR phase will encompass "initial requirements decomposition, technical and programmatic risks, and functional designs," according to the Army.
A downselect to one competitor is slated for 2022, with the Army looking to begin fielding FLRAA in 2030.