The Army on Tuesday awarded Bell [TXT] and a Sikorsky [LMT]-Boeing [BA] team contract modifications, each worth nearly $300 million, to continue work on the Future Long Range Assault Aircraft competitive demonstration and risk reduction (CD&RR) effort.
The deals arrive as the Army gets set to release the final Request for Proposals for FLRAA production in the third quarter of this fiscal year before selecting a winner between Bell's V-280 Valor tiltrotor aircraft and a Sikorsky-Boeing's Defiant X in late FY '22.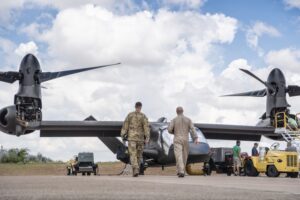 "The award of these agreements is a significant milestone for FLRAA," Brig. Gen. Rob Barrie, Program Executive Officer, Aviation, said in a statement. "CD&RR Phase II accelerates digital engineering design work to the subsystem level and mitigates industrial base workforce risk while maintaining competition. Through CD&RR efforts, Army leaders have had the ability to make early, informed decisions ensuring FLRAA capabilities are not only affordable, but that they meet Multi-Domain Operations requirements while delivering on an aggressive schedule that does not sacrifice rigor for speed."
Work on the next phase for FLRAA CD&RR will include having both offerors "complete an initial preliminary design event for major subsystems and the conceptual weapons system," according to the Army.
Bell received $292.7 million deal for FLRAA CD&RR Phase II work, with an estimated completion date by March 30, 2022.
In December, Bell said V-280 Valor has reached 200 flight hours, noting the platform has also flown at speeds above 280 knots (Defense Daily, Dec. 17).
Sikorsky received a $284.4 million deal for the FLRAA CD&RR Phase II, with their work with Boeing expected to be completed by the end of next May.
In January, Sikorsky and Boeing detailed Defiant X, their updated offering for FLRAA which builds on the SB>1 Defiant technology demonstrator platform the companies have flown for several years, and includes enhancements to the design to reduce thermal signature, improve aerodynamic handling, and include fly-by-wire flight controls integrated with autonomy capability (Defense Daily, Jan. 25).
The Army selected Bell and Sikorsky-Boeing's offerings to move onto the risk reduction phase for the Black Hawk replacement program last March after both had participated in the Joint Multi-Role Technology Demonstrator program to inform requirements since 2013.
For the FLRAA CD&RR Phase 1 deals, Bell received $84 million and Sikorsky-Boeing was awarded $97 million (Defense Daily, March 20 2020).