Sikorsky [LMT] and Boeing [BA] on Monday detailed their new Defiant X aircraft, the company's updated offering for the Army's Future Long Range Assault Aircraft (FLRAA) competition to find a UH-60 Black Hawk replacement.
The co-axial rigid rotor Defiant X builds on the SB>1 Defiant technology demonstrator platform the company has flown for several years, and includes enhancements to the design "to reduce thermal signature and improve aerodynamic handling" and "fly-by-wire flight controls integrated with autonomy capability."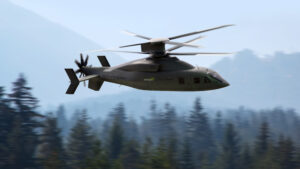 "Defiant X is the best fit for the Army mission. We've really optimized our design based on both the Army's requirements but also leveraging and building on all of the test data that we've generated to date," Heather McBryan, Boeing's sales and marketing director for Future Vertical Lift, told reporters. "All of that has led to Defiant X, and the biggest move is going from a tech demonstrator to a combat-ready weapon system."
Last March, the Army selected Sikorsky-Boeing's SB>1 Defiant and Bell's V-280 Valor tiltrotor aircraft to move onto the Competitive Demo and Risk Reduction phase for FLRAA after both had participated in the Joint Multi-Role Technology Demonstrator program to inform requirements since 2013 (Defense Daily, March 16). 
A final Request for Proposals for FLRAA production is expected in the coming months, with a contract award to either the Sikorsky-Boeing team or Bell slated for fiscal year 2022. 
"We believe that this aircraft is survivable, maneuverable and the right choice for the Army mission. We're very excited about where the design is right now. We feel it's been optimized based on the aircraft as well as what the Army is asking for. Sikorsky and Boeing have brought together a tremendous team that is dedicated to producing this aircraft on-time and on-cost," Jay Macklin, Sikorsky's business development director for Future Vertical Lift, told reporters.
Macklin noted he couldn't offer certain details on the changes made for Defiant X while the competition is ongoing, but said the updates also include a new tricycle design landing gear to improve stability and changes to the exhaust system to further reduce thermal signature.
Defiant X also has an integrated mission systems package built on a modular open systems architecture to enable Joint All-Domain Operations, allowing for growth capability to accept future upgrades as FLRAA is asked to handle changing missions.
"We've really designed for growth, so that out in the 2030s as missions change and as threats change there's that growth capability," McBryan said. 
To date, the current SB>1 Defiant now has 26 total flight hours across 31 flights, over 135 hours of rigorous component testing on its Propulsion Systems Test Bed at the company's West Palm Beach, Florida, facility and 1,500 hours of data gathered from its Systems Integration Lab.
The Sikorsky-Boeing team announced SB>1 Defiant reached a speed of 232 knots in descent and 211 while flying level during an October test flight, achieved using two-thirds of the aircraft's prop torque and engine power (Defense Daily, Oct. 14). 
As of December, Bell has logged 200 flight hours with its V-280 Valor and has flown at speeds above 280 knots (Defense Daily, Dec. 17).