Bell's [TXT] V-280 Valor tiltrotor aircraft offering for the Army's Future Long Range Assault Aircraft (FLRAA) program has reached 200 flight hours as it approaches its third anniversary of first flight test this week, a company official told Defense Daily.
"We quickly demonstrated our ability to fly greater than 280 knots. We did go in excess of 300 knots true airspeed in level flight early in the program. We were able to demonstrate long range by measuring fuel flows…to include a flight from Amarillo to Arlington, Texas, where we fly the aircraft now. And we're also doing low-speed agility testing, proving out with flight test data we were able to meet the Level 1 attitude quickness requirements which are a measure of how agile the aircraft is," Ryan Ehinger, Bell's vice president and program director for V-280, said of the benchmarks met over the last three years of flight tests.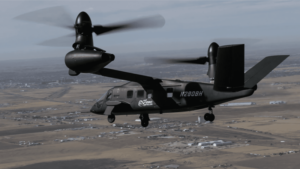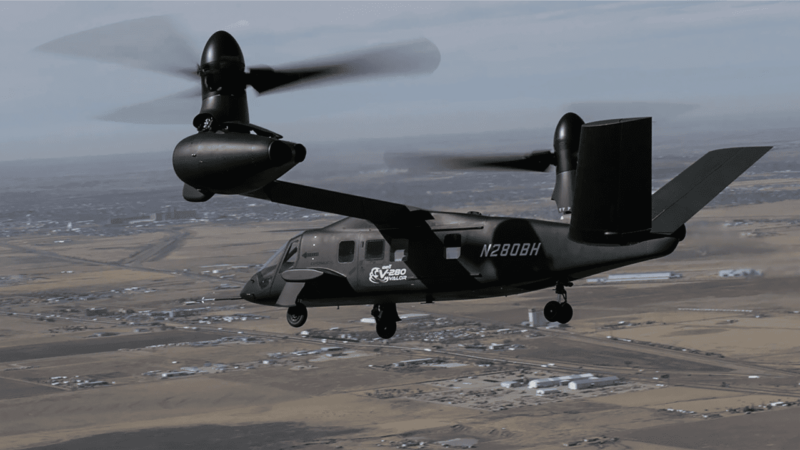 Ehinger noted V-280 has now completed successful demonstrations of critical mission capabilities, such as its tactical datalink, distributed aperture sensor system and sling-load capacity.
"These are things we've been able to achieve, in part, because of the reliability of the aircraft. Our knowledge and foundational understanding of tilt-rotors allowed our models to be so mature and accurate that we were able to design an aircraft and quickly meet some of those key requirements early in test," Ehinger said.
The V-280 Valor is one of two offerings for the Army's FLRAA program to find a UH-60 Black Hawk replacement, with Bell and Sikorsky [LMT] and Boeing's [BA] SB-1 Defiant currently in the program's Competitive Demo and Risk Reduction phase.
A draft Request for Proposals for the FLRAA production phase is expected to be released before the end of the year.
Testing of V-280's Tactical Common Datalink (TCDL) and Pilotage Distributed Aperture Sensor (PDAS) System took place in January and February, and included  "successfully transmitted information between the aircraft and the ground station including basic flight data such as airspeed, altitude, and attitude," according to the company.
"By employing on-board sensors and TCDL the V-280 showed it would be able to provide targeting information to enhance the lethality of precision long range weapons," the company wrote in a statement. 
The sling-load test, which took place at the same time, involved carrying a 1,200-pound payload while also utilizing the tactical datalink and distributed aperture sensors. 
"While we were doing the sling-load test, we were able to use our distributed aperture system and tactical data link to beam that data down to a ground station. And I was able to watch on a laptop screen through a camera on the bottom of the aircraft and see the stability of that external load as the pilots were moving it across the ramp," Ehinger said.
Bell previously conducted an autonomous test flight with V-280 last December, which included performing a full range of flight requirements such as automated takeoff and landing and conversion into cruise mode (Defense Daily, Jan. 9). 
Sikorsky and Boeing announced in October its Defiant aircraft reached a speed of 232 knots in descent and 211 while flying level during a test flight, achieved using two-thirds of the aircraft's prop torque and engine power (Defense Daily, Oct. 14). 
As of October, Defiant had 23 total flight hours, 138 hours of rigorous component testing on its Propulsion Systems Test Bed at the company's West Palm Beach, Florida, facility and 1,500 hours of data gathered from its Systems Integration Lab. 
A downselect to one competitor is slated for 2022, with the Army looking to begin fielding FLRAA in 2030.