The Army has selected Elbit Systems of America and BAE Systems to demonstrate their 155mm gun system offerings in an upcoming "shoot-off" to help find a new mobile howitzer, the two companies said Thursday.
Elbit America will offer its Autonomous Truck Mounted Ordnance System (ATMOS) Iron Sabre, which is currently in full-rate production for Israel.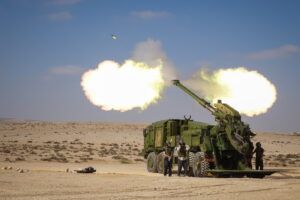 "US Army Fires needs solutions that can keep up with the [Stryker Brigade Combat Team], can shoot faster and farther, and most importantly are low risk and ready now. Elbit Systems of America's ATMOS Iron Sabre addresses all of these needs," Ridge Sower, vice president for ground combat and precision targeting, said in a statement. "We are pleased to be selected for this evaluation and stand ready for rapid delivery from our hot production line if selected for production and fielding."
BAE Systems will demonstrate its fully-automated Archer 155mm gun system, in service in Sweden, and which has a 52-caliber cannon qualified to fire the BONUS anti-armor ammunition and Excalibur precision-guided munition.
"We are confident that the Archer, highly mature and in service with the Swedish Army, will demonstrate its superiority at providing rapid, highly effective, and sustained fire support for troops in combat. The Archer's automated design, armored cabin, fast shoot and scoot times, and extended range enhance its survivability on the battlefield. Soldiers can operate the vehicle entirely from inside the cabin, under armor, while striking enemy targets at long ranges," Mike McCarthy, a BAE Systems spokesman, said in a statement. 
The mobile howitzer "shoot-off" will be held at Yuma Proving Ground in Arizona and last several months, with the Army previously detailing its intent to find "a more mobile, lethal, and survivable 155mm system to replace its current fleet of towed howitzer."
BAE Systems has previously told reporters Archer is a "production-ready system" at a "high manufacturing-readiness level," which is designed for improved crew safety, high rate of fire, and the ability to set up the system within 30 seconds (Defense Daily, Oct. 19). 
Dave Richards, Elbit America's product line director for precision weapon systems, noted the company is looking at a multi-year plan to establish a facility to also build the system in the U.S. 
"As it stands today, the ATMOS systems are mostly produced in Israel. However, we do have a multi-year plan where we are looking to [facilitate] production capability in the United States. We understand the importance, and COVID has demonstrated the importance, of domestic supply chain security and we take that very seriously at Elbit America," Richards told reporters.
Richards said ATMOS Iron Sabre will demonstrate its current semi-automatic configuration at the shoot-off, while a fully-automated version is in "full-scale development and almost ready for delivery" to Israel.
"[The semi-automated autoloader] allows a relatively small crew of four or five to be able to support six to seven rounds per minute rate of fire through a semi-automatic loading process. Right now, we find that to be the best balance of reliability and value while still meeting long range precision fires modernization volume of fire and range goals," Richards said. "[The fully-automated autoloader] has been demonstrated in a fielding-relevant environment several times over the past couple of years."
ATMOS is capable of being set up to fire in less than 30 seconds and has a rate of fire of six to seven rounds per minute, according to Richards, who added the system is transportable by C-17.
While this is the first time ATMOS Iron Sabre will be demonstrated for the service in the U.S., Richards noted Elbit America has previously hosted Army officials to see the capability at its firing facilities in Israel.
"I would say the ATMOS is a relatively known quantity to the Fires Center of Excellence and [Futures] Command. But this will be the first time that we've actually been able to demonstrate ATMOS, to my knowledge, within a U.S. firing context at a U.S. proving ground," Richards said.