The Army announced Wednesday it will divest of its Stryker Mobile Gun Systems (MGS) by the end of fiscal year 2022, as it focuses on continued development of future lethality upgrades for the platform and frees up resources for higher priority areas.
Officials cited "obsolescence and systemic issues with the system's dated cannon and automatic loader" as reasons for moving on from the Stryker MGS, built by General Dynamics' [GD] Land Systems business.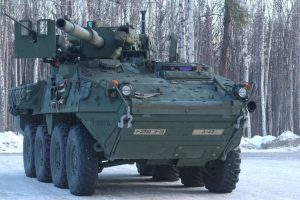 "Decisions on when it is best to divest a system currently in the force are not taken lightly,," Lt. Gen. James Pasquarette, the Army's deputy chief of staff G-8, said in a statement. "The Army has done its due diligence to ensure lethality upgrades will remain intact to provide our Stryker formations the capabilities they need in the future."
The Stryker MGS, which has been in the field for 15 years and uses a 105mm tank cannon, was the first system to employ an autoloader which officials said has now become too costly to maintain.
"In addition, the lethality capabilities provided by the Stryker MGS were based on the flat-bottom chassis, and the system was never upgraded against more modern threats such as improvised explosive devices or anti-tank mines," the Army wrote in a statement. "After reviewing concerns and vulnerabilities of the Stryker MGS, Army officials made the decision to invest in other substantial modernization efforts to improve the lethality, survivability, maneuverability and maintainability of the Stryker fleet."
Stryker lethality upgrade investments moving forward will now be focused on the Medium Caliber Weapon System, the Common Remotely Operated Weapons Station–Javelin, Anti-Tank Guided Missile updates, and the new 30 mm cannon, according to the Army.
The Army is planning to field the first Strykers with new Medium Caliber Weapon System by the fall of 2022, with the service currently working through a design integration study with select industry offerings (Defense Daily, June 16 2020).
"The divestiture of the Stryker MGS poses no impact to the industrial base as the system has been out of production for some time, and the majority of the sustainment supply chain for the MGS is included in other variants of the current Stryker fleet," the Army wrote. "During the divestiture, the Army will continue to invest in more cost-effective solutions to meet the limited capability gaps that have not yet been met by other lethality improvements."