BAE Systems is looking to offer its Archer 155mm gun system for the Army's effort to find a new mobile howitzer, the company said Monday, with the service planning to hold a "shoot off" beginning in early 2021.
The Archer is a fully automated weapon system, already in service in Sweden, and has a 52-caliber cannon qualified to fire the BONUS anti-armor ammunition and Excalibur precision-guided munition.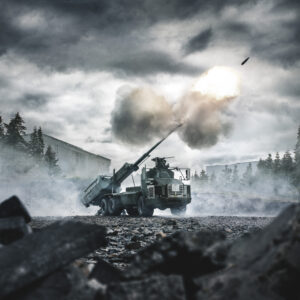 "[Archer] is a production-ready system. It has a high manufacturing-readiness level. It's a fielded system that's been through a very rigorous development and testing regime. The capabilities it can achieve are well-known and documented and they're based on a pretty rigorous set of tests that Sweden has put the system through," Chris King, BAE Systems' director of business development, told reporters.
In July, the Army detailed plans to find "a more mobile, lethal, and survivable 155mm system to replace its current fleet of towed howitzer." From January to May 2021, the Army will evaluate mobile howitzer offerings at Yuma Proving Ground in Arizona.
King pointed to Archer's fully automated capabilities for improved crew safety, high rate of fire, and the ability to set up the system within 30 seconds as key upgrades that could be offered to the Army.
"I think this brings a package of capabilities together that no other system does today. Some systems have some automation, but they're not fully automated," King said. "The Archer also comes with an ammunition resupply system that allows an ammo truck to come up that uses mechanical devices to minimize the amount soldier handling required to move ammunition over to the Archer system and get the rounds into the automatic loader."
Sweden is already on contract for 48 Archer systems, with 24 currently fielded and the other 24 in production.
Henrik Knape, development director for BAE Systems Bofors in Sweden, told reporters the Swedish Defense Minister announced Monday a plan to propose buying an additional 24 Archer systems.
Knape also noted BAE Systems has fired the Archer cannon, but not the full-up system, during previous qualifications for the BONUS and Excalibur munitions,
Archer is capable of firing the BONUS anti-armor munition up to 35 kilometers, conventional munitions up to 40 kilometers, and the precision-guided Excalibur munition above 50 kilometers, according to BAE Systems.
The company is also exploring Archer's potential to meet the U.K.'s requirement for a new mobile howitzer, according to King.