The Navy issued a Request For Information (RFI) for the preliminary design (PD) for the Light Amphibious Warship (LAW) on Oct. 16, revealing more specifications for the ship.
The solicitation said the Navy is issuing this RFI "as a means of conducting market research to identify industry feedback" on specification documents.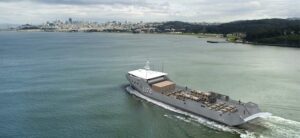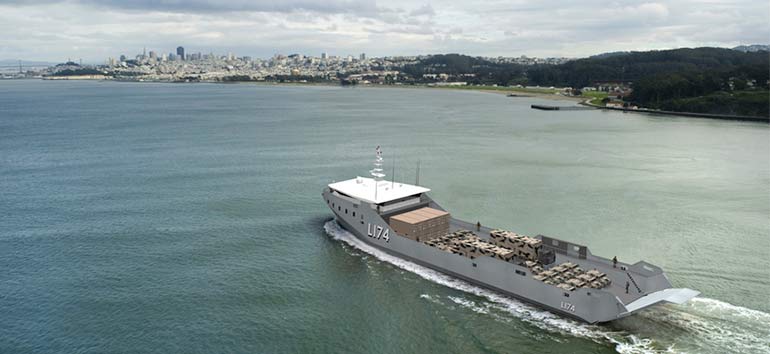 The Navy noted the LAW program is "soliciting Preliminary Design (PD)/Contract Design (CD) for the ship class. It is the intention of the Government to award multiple contracts pursuant to this solicitation for LAW PD/CD."
RFI documents specified the LAW will be a new ship designed to "support the employment of the Marine Littoral Regiment (MLR) by providing direct conveyance to beaches in order to on-load and off-load expeditionary forces, equipment and supplies."
The service defined the LAW as required to provide "mobility of forces" from the embarkation point, through the littoral waters, across open ocean, and to the debarkation point "that affords maritime tactical advantage."
Initial details of the Marine Corps' 2030 force redesign plan earlier this year said the service would seek new capabilities to increase littoral maritime mobility and resilience including the new LAW (Defense Daily, March 24).
A May RFI Q&A industry answers document revealed the Navy expects to buy 28-30 LAWs to cost "several digit millions" each. According to industry briefings, the Navy expects a six to eight-month detail design period, a 24-month production duration, down selecting to a single winner, and using only one variant and a single yard (Defense Daily, May 6).
In August, Marine Major Gen. Tracey King, Director of Expeditionary Warfare, OPNAV N95, said the LAW was in industry studies and the Navy and Marine Corps are trying to develop it quickly, like the new FFG(X) Constellation-class frigates (Defense Daily, Aug. 28).
The LAW is expected to have a minimum service life of 20 years and will be armed with two 30mm guns providing total 360-degree coverage; six mounts to hold pintless crew served weapon systems positioned for 360-degree coverage; and the space, weight, power, and cooling for "containerized missile systems."
At the time, King said the LAW will not replace other amphibious ships but enhance the ability to conduct distributed operations with platforms having increased lethality. Despite the RFI noting the LAW will potentially field missiles, King said it will need a "sheepdog" to help protect it, like a San Antonio-class amphibious transport dock ship, destroyer, or Littoral Combat Ship.
The specific design performance capabilities have the ship to be capable of transiting the surf zone to a beach landing, where it shall be able to retract itself form the beach under its own propulsion power with assistance from a kedge anchor whether unloading or loading cargo. The Navy said the LAW should be able to beach on a 1:40 or steeper beach slope without boulders or anti-craft obstacles.
The Navy said the ship shall be capable of finishing a full beaching and deployment operation in less than 90 minutes, starting from the approach and concluding when cargo has been offloaded and the vessel is full astern seaward outside the surf zone.
Other LAW specifications include a cargo deck capable of carrying 648 tons, a minimum deck area of 8,000 square feet, capable of carrying at least 90,000 gallons of JP-5 (F-44 aviation fuel) without needing deck storage, a minimum transit speed of 14 knots, 5,300 nautical miles endurance at 14 knots without refueling at full load condition without using cargo fuel, operating at least 11 day missions without replenishment for 40 crew and 50 embarked personnel.
In August, King said he saw the LAW as being like a lily pad that carries excess fuel, make water, operate under the umbrella of the fleet, and let Marines live on it like part of the crew as opposed to current landing crafts.
The solicitation said the Navy is particularly interested in industry responses to areas where Navy standards or material will drive cost while and commercial options can save cost, sections where modifications to the requirements language might reduce cost, sections that should be added to perform preliminary design, sections recommended for deletion because they are unnecessary for PD, and sections that need further clarification.