The Marine Corps' plan to redesign its force by 2030 will include eliminating its tank battalions and cutting artillery cannon batteries, while massively boosting investments in long-range precision fires and unmanned systems.
Initial details of the Marine Corps' force design plan released on Monday sets the path for the next 10 years of retooling toward "naval expeditionary warfare in actively contested spaces" and building a lighter force capable of meeting future challenges against peer competitors such as China.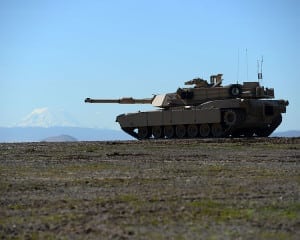 "The Marine Corps is not optimized to meet the demands of the National Defense Strategy," Marine Corps Development Command wrote in a release detailing new force design initiatives. "The future Fleet Marine Force (FMF) requires a transformation from a legacy force to a modernized force with new organic capabilities. The FMF in 2030 will allow the Navy and Marine Corps to restore the strategic initiative and to define the future of maritime conflict by capitalizing on new capabilities to deter conflict and dominate inside the enemy's weapon engagement zone."
Gen. David Berger, the new Marine Corps Commandant, has been leading the effort to reconceptualize the force to maintain overmatch on peer competitors, and noted recently that he has begun discussing the 2030 design document with lawmakers (Defense Daily, March 10). 
Force design moves will include completely divesting from tank battalions, while downsizing the number of infantry battalions from 24 to 21, artillery cannon batteries from 21 down to 5, amphibious vehicle companies from 6 to 4 and reducing all tiltrotor, attack and heavy lift squadrons.
The Marine Corps is also planning to reduce the number F-35B and C aircraft per squadron from 16 to 10 platforms.
"Throughout this 10-year initiative, the Marine Corps will be making investments in capabilities to include increasing long range precision fires, advanced reconnaissance capabilities, unmanned systems and resilient networks. Future budget requests will include an expanded list of viable unmanned capabilities that will create significant opportunity for industries across the country," the Marine Corps wrote. 
Investments will include a 300 percent increase in rocket artillery capacity and anti-ship missiles, as well as doubling the number of unmanned air and ground systems.
The Marine Corps will also seek new capabilities to "increase littoral maritime mobility and resilience, including a new light amphibious warship, as well as more affordable stern-landing and operational support vessels."
Future budgets will also prioritize new mobile air defense and counter-precision guided missile systems, to include directed energy capabilities, loitering munitions, electronic warfare tools and expeditionary airfield capabilities. 
The force design review will also include reducing the Marine Corps' overall size by around 12,000 personnel over the next 10 years.
"Developing a force that incorporates emerging technologies and a significant change to force structure within our current resource constraints will require the Marine Corps to become smaller and remove legacy capabilities," the Marine Corps wrote. "These changes will be accompanied by a reinvigoration of the [Fleet Marine Force] by assigning more Marine Corps forces to the Fleet; putting more Marine Corps experts in the Fleet Maritime Operations Centers; shifting emphasis in its training, education, and supporting establishment activities; and refining its component relationship in partnership with the Navy."