NATIONAL HARBOR, Md. — The Marine Corps' next assistant commandant on Tuesday defended the force's decision to divest of its tanks as part of its retooling for future operations, adding he doesn't believe the move will shift an armor requirement burden to the Army.
Lt. Gen. Eric Smith, the head of Marine Corps Combat Development Command, told attendees at the Navy League's SeaAirSpace conference here that embracing long-range precision fires and light vehicles outfitted with new weapons will provide the necessary capability to replace tanks in the shift to potential Indo-Pacific operations.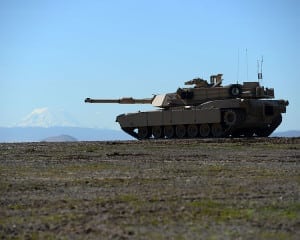 "I would say that we're not shifting burdens on to others. What we're doing is we're focused on not just the Joint Warfighting Concept but we're focused on what the primary theater is per the National Defense Strategy and what it tells us to do, which is to focus on the [Indo-Pacific]. And we're providing capabilities which the commander has asked for, which is the ability to gain and maintain custody of targets to sense and make sense of what's happening and to be there in competition," Smith said.
Gen. David Berger, the Marine Corps commandant, has been leading an effort to redesign the force by 2030 with plans such as divesting of its Abrams tanks and boosting investments in rocket artillery capacity and anti-ship missiles by 300 percent, in a move to be a lighter, Naval expeditionary warfare-focused force (Defense Daily, March 27).
"What we didn't say is that tanks are of no value. Tanks are of great value. I love tanks. They're awesome. [But] they are not of the same value as long-range precision fires in the Indo-Pacific theater, which we can then transfer over into any theater," Smith said.
Smith cited a recent experiment called Organic Precision Fires Mounted where Marines took JLTVs with rockets mounted on the back to assess the ability to take out an adversaries armored capabilities without the need for tanks.
"I can say that in an unclassified forum, we went five for five on moving targets and hit ranges touching 90 kilometers," Smith said. "So I can replicate the capability of destroying armor on the move without encumbering 72 to 74 tons, and when you add active protection systems it's closing in on 80 tons. I have to move that. I've got to fuel that. So we can't get it there in time. We are the fight tonight, stand-in force. We live inside the weapons engagement zone. I don't have time to load things and move things."