A group of Republican senators filed an amendment Thursday to the proposed bipartisan infrastructure bill that would add $50 billion in defense-related spending, to include more than $25 billion for shipyard infrastructure improvements.
The amendment led by Sen. Richard Shelby (R-Ala.), the top Republican on the Appropriations Committee, along with Sens. Jim Inhofe (R-Okla.), the Armed Services Committee ranking member, and SASC Member Roger Wicker (R-Miss.), would also fund 5G networking projects and upgrades to depots and ammunition plants.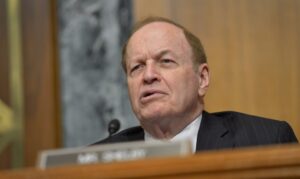 The Senate this week is considering amendments to the infrastructure package, which currently calls for $550 billion in new spending priorities.
The $25.4 billion included in the amendment for Navy and Coast Guard shipyard infrastructure improvements arrives after lawmakers on both sides of the aisle have floated the idea of including projects associated with the Navy's Shipyard Infrastructure Optimization Program in an eventual infrastructure bill (Defense Daily, May 5). 
Shelby, Inhofe and Wicker's amendment would include $21 billion for improvements at public shipyards, $2 billion for construction of new private shipyards, $2 billion for repairs at existing private shipyards and $350 million for upgrades at Coast Guard facilities. 
"America's shipyards are a national asset, critical to our nation's infrastructure and security, ensuring there is domestic capacity to build, repair and maintain the fleets of the U.S. Navy, Coast Guard, Army, and other Federal agencies – both in times of peace and times of conflict," Matthew Paxton, president of the Shipbuilders Council of America, said in a statement. "The Shipbuilders Council of America emphatically encourages the Senate to adopt this essential national security amendment."
The senators' amendment also includes $4 billion to "help reduce the backlog of facility infrastructure projects," with the Army, Air Force and Navy each receiving $1.3 billion and the remaining $100 million going to the Defense Health Agency.
Additionally, it includes $4 billion for modernization of test and training ranges, $2 billion for high-priority military construction projects, $4.5 billion for depot modernization, $2.5 billion for ammunition plant modernization, $2.5 billion for 5G wireless networking technologies and $3.9 billion for defense activities at the Department of Energy.