The Senate on Wednesday voted 88-11 to pass the $768.2 billion compromise version of the fiscal year 2022 National Defense Authorization Act (NDAA), sending the bill that endorses a $25 billion topline boost to the president's desk for final signature.
Wednesday's vote arrived after weeks of disagreements over amendments stalled out progress on the Senate's own version of the bill just before Thanksgiving, with the leaders of the House and Senate Armed Services Committee (SASC) then coming together in an informal conference to iron out a final version of the legislation.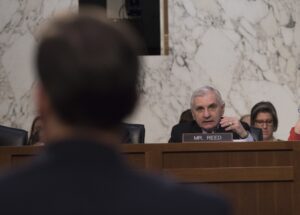 "I am pleased that the Senate has voted in an overwhelming, bipartisan fashion to pass this year's defense bill. Our nation faces an enormous range of security challenges, and it is more important than ever that we provide our military men and women with the support they need to keep Americans safe," Sen. Jack Reed (D-R.I.), chairman of SASC, said in a statement. "To that end, this bill makes great progress. It addresses a broad range of pressing issues, from strategic competition with China and Russia, to disruptive technologies like hypersonics, AI, and quantum computing, to modernizing our ships, aircraft, and vehicles."
The 11 'No' votes for the NDAA were cast by Sens. Cory Booker (D-N.J.) Mike Braun (R-Ind.), Kirsten Gillibrand (D-N.Y.), Mike Lee (R-Utah), Ed Markey (D-Mass.), Jeff Merkley (D-Ore.), Alex Padilla (D-Calif.), Rand Paul (R-Ky.), Bernie Sanders (I-Vt.), Elizabeth Warren (D-Mass.) and Ron Wyden (D-Ore.)
Last week, the House voted 363-70 to pass the NDAA, with the annual defense policy bill receiving more votes in favor from Republicans than Democrats (Defense Daily, Dec. 8).
The NDAA authorizes a $768.2 billion topline for national security programs, reflecting the $25 billion plus-up approved in the House and Senate Armed Services Committees' versions of the bill, to include $740.3 billion for the Pentagon and $27.8 billion for Department of Energy programs.
The final version of the bill also endorses the Biden administration's request to procure 85 F-35s, calls for more funds to procure additional F-15EXs, F/A-18E/F Super Hornets and CH-47F Block II Chinooks and adds $4.7 billion to cover five additional ships to the Navy's shipbuilding plan.
Congress has yet to pass final FY '22 appropriations bills, to include reflecting the increased topline figure in a defense spending bill, while approving a second continuing resolution to keep the government open through Feb. 18 (Defense Daily, Dec. 3).
Rep. Adam Smith (D-Wash.), the HASC chairman, said recently he believes there's a 50/50 chance Congress is able to pass full appropriations bills by the new Feb. 18 deadline (Defense Daily, Dec. 6).