Several lawmakers, including the chair of the House Armed Services Committee (HASC), said they would support including the Navy's 20-year, $21 billion plan to improve public shipyards as part of the White House's proposed infrastructure package.
"This is a real infrastructure issue for us nationwide. Shipbuilding and ship repair capability is stressed, to put it mildly. Certainly, that is crucial for national security and national defense, but it's also an incredibly important part of our economy that we should strive to preserve so I would be supportive of that," HASC Chair Adam Smith (D-Wash.) said Wednesday.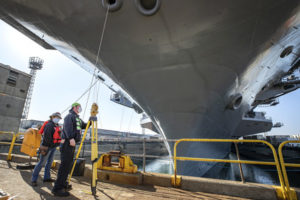 Rep. Derek Kilmer (D-Wash.) called on HASC to continue support for the Navy's Shipyard Infrastructure Optimization Program (SIOP) during a hearing where non-committee members testified on their defense-related priorities for the next fiscal year.
"The timely execution of SIOP is vital to the Navy's mission, to the security of the work being done in the shipyards and to our national security. Any delays or shortfalls in SIOP could result in additional aging and damage to the already substandard facilities, utilities, dry docks, equipment and information technology infrastructure at the four public yards," Kilmer said, noting his district includes the Puget Sound Naval Shipyard at Naval Base Kitsap. "These are investments that need to be made and certainly it seems like a great opportunity to include this in a broader conversation around our infrastructure [plan]."
Rep. Joe Courtney (D-Conn.), chair of the HASC Seapower Subcommittee, noted he's had discussion with Kilmer on pushing for SIOP to be included in the $2.3 trillion infrastructure package which is currently being negotiated between the Biden administration and Congress.
"To me, there is an opportunity in the infrastructure package to do a major catch-up in terms of a really neglected deterioration in our shipyards," Courtney said.
Acting Navy Secretary Thomas Harker told lawmakers recently the service would look at accelerating SIOP if additional funds were to become available, citing the infrastructure package as a potential opportunity to push the program forward (Defense Daily, April 30).
"I know there's been talk by different folks on the Hill about putting that into the infrastructure bill. It's something that we would appreciate the opportunity to accelerate that program because it is very critical to our success moving forward," Harker said during a House Appropriations Committee's Defense subcommittee hearing on April 29.
Kilmer noted when Harker visited the Puget shipyard last week he said the primary dry dock onsite would be "functionally obsolete" by 2034 and unable to handle the next class of aircraft carriers without significant upgrades.
A bipartisan group of lawmakers on April 28 introduced a new bill to provide $25 billion in funds to help recapitalize public and private shipyards supporting the Navy, to include $21 billion for the Navy's four public shipyards, $2 billion for major private new construction shipyards, and $2 billion for capital equipment improvements to Navy private repair shipyard repair and modernization facilities (Defense Daily, April 28).