The leaders of the House Armed Services Seapower Subcommittee on Tuesday criticized the Navy's latest 30-year shipbuilding plan over its lack of specifics and for downplaying Congress' previous requirement to pursue a 355-ship fleet.
Rep. Joe Courtney (D-Conn.), the subcommittee's chairman, specifically said Congress "can't accept the document that came over," while Rep. Rob Wittman (R-Va.), the panel's top Republican, added that the plan sends a "signal of ambivalence to our adversaries."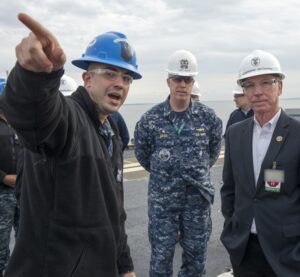 "If you look at the 30-year shipbuilding plan, I believe there are a number of shortcomings there," Wittman said during a virtual discussion hosted by the Navy League. "It lacks the details necessary to really determine where we are going. It is critical that we modernize the Navy. The things that are very concerning about this plan is the lack of specificity about how we get to the statutory requirement of 355 ships and the Future Naval Force Structure Assessment previously said we ought to be on track to about 400 ships by 2038. This plan does not get us there."
The Navy submitted an abridged long-range shipbuilding plan to Congress in June that did not include specifics on ship construction past fiscal year 2022, while noting that a more detailed report will be delivered along with the president's next budget request for FY '23 (Defense Daily, June 21).
The plan listed potential ranges for naval platforms, rather than specific projections, to reach a total battle force fleet of 321 to 372 manned vessels; including nine to 11 aircraft carriers; eight to nine LHA/LHD-style amphibious assault ships; 16 to 19 other large amphibious warfare ships; 24-35 small amphibious warfare ships, including the future Light Amphibious Warship (LAW); 63 to 65 Large Surface Combatants; 40 to 45 Small Surface Combatants; 66 to 72 attack submarines/large payload submarines; 12 ballistic missile submarines as planned; 56 to 75 combat logistics force, including the next generation logistics ship (NGLS); and 27-29 support vessels.
Courtney acknowledged that new administration will typically wait until their second budget cycle to include long-term defense spending plans with their request, while adding that the lack of multi-year plans and projections in the shipbuilding report hinders Congress' ability to shape spending priorities.
"That's still kind of frustrating because when you're trying to figure out a spending plan and an authorization plan it would be nice to have a little bit of visibility out further into the future," Courtney said. "With that [355-ship] benchmark, which as I said is statutory, there really is an obligation in the shipbuilding plan to show us what the composition of that fleet will be and when we're going to get there."
Adm. Mike Gilday, the Chief of Naval Operations, spoke during an earlier virtual discussion and said the goal with the shipbuilding was to present a range of ship projections for consideration, while noting he considers 355 ships a good target and that it "kind of falls smack in the middle and, of course, that's the law."
Gilday, however, reiterated his view that the Navy will face a challenge in growing its fleet beyond 300 ships if the service's topline is not increased in the coming years.
"But the reality is we can't really afford to have a Navy bigger than we can sustain given the resources that we receive. Based on our current budget, I believe the analysis shows that we can afford a fleet of about 300 ships," Gilday said. "I think it's going to be a challenge [growing to 355 ships] if our topline stays the same or if it decreases. If it decreases, I think we're going to see a declining fleet in terms of capacity."
Courtney also said the "lack of precision" with the plan makes it harder to estimate how the Navy will need to grow its shipyard capacity to meet construction needs, specifically citing his concern with meeting the proposal to build 66 attack submarines.
"You can't do that with the shipyard capacity that exists right now. And if we need to start building out that capacity, we need to know it not in one year out but, frankly, as soon as possible," Courtney said.