The House Armed Services Committee adopted a new "Buy American" provision to its version of the next defense policy bill that would incrementally increase the required percentage of U.S-made parts for major acquisition programs over the next eight years.
Rep. Donald Norcross (D-N.J.), chair of the Tactical Air and Land Forces Subcommittee, introduced the amendment to HASC's fiscal year 2022 National Defense Authorization Act that pushes the domestic source requirement from 55 to 60 percent after enactment, then up to 65 percent by 2024, and ultimately 75 percent by 2029.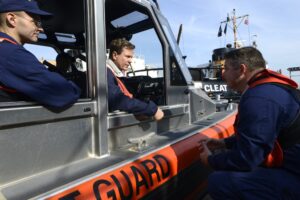 "We all talk about it. We all want it. But somehow we can't get it done," Norcross said, acknowledging previous concerns with such provisions over potential cost and schedule impact. "Each year, we have heard back some of the concerns. This year I believe I have addressed all of them adequately and hopefully now we can put behind us what we really need to do and that is to bring some of those jobs back home."
Norcross reiterated several times during debate that this year's version of the amendment was constructed specifically to address previous concerns related to major contractors' ability for compliance, noting that it does not apply to current contracts, allows for flexibility to identify which parts will be domestically sourced and bolsters the waiver process to allow for exemptions in certain cases.
Rep. Rob Wittman (R-Va.), ranking member on the Seapower Subcommittee, pushed back on Norcross' amendment arguing it would have a negative impact on shipbuilding manufacturers and potentially add to the ongoing backlog in maintenance work.
"We keep saying that if we move the goalposts that those opportunities will be there. I'm just wondering if you have the data that shows what the impact will be on cost, whether this requirement can be met and what it means for cost schedules. We're already ready at record levels of delay in shipyards for ship maintenance," Wittman said.
Wittman introduced an unsuccessful substitute amendment that would have replaced Norcross' provision and required a report on the cost and schedule impact associated with incrementally growing the required "Buy American" percentage to 75 percent by 2029.
Rep. Adam Smith (D-Wash.), the HASC chairman, offered his support for Norcross' amendment and noted the further flexibility for OEMs under the provision that allows them to source parts from a wide range of NATO allies and other international partners and still meet the requirements.
"I think it is important that we start building a more reliable, trusted supplier base. But [that] can't always just be American. I think, in large part because of some of the China discussion earlier, so much of it is in other parts of the world that are not as friendly to us that I want to build that up and give them an opportunity," Smith said.
The committee ultimately adopted Norcross' amendment by voice vote.
HASC advanced its version of the NDAA, which includes a $25 billion increase to the topline, in the early hours of Thursday morning by a 57 to 2 vote (Defense Daily, Sept. 2).