House Republican leadership has appointed Rep. Mike Turner (R-Ohio), a member of the Armed Services Committee, as the new top GOP lawmaker on the House Permanent Select Committee on Intelligence.
Turner replaces Rep. Devin Nunes (R-Calif.), who formally resigned from Congress on Monday to become the CEO of former President Donald Trump's new media company.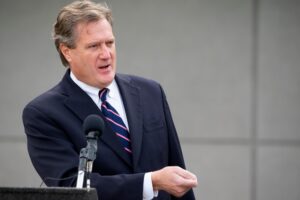 "The House Intelligence Committee's work is critical to our national security and this opportunity will further allow me to work closely with Wright-Patt [Wright-Patterson Air Force Base] to address our nation's security challenges. As the Ranking Member, I am committed to supporting the men and women in the Intelligence Community and I would like to thank Leader McCarthy for his confidence," Turner said in a statement.
Wright-Patterson AFB in Ohio is home to the National Air and Space Intelligence Center (NASIC), and Turner said his new ranking member role will allow him to further advocate for the "Air Force's primary source for foreign air and space threat analysis."
The House Intelligence Committee, currently chaired by Rep. Adam Schiff (D-Calif.), oversees the Intelligence Community and intelligence-related matters at the Departments of Defense, Homeland Security, Justice, State, Treasury and Energy.
Turner has served on the House Intelligence Committee since 2018 and is also the ranking member on the Intelligence Modernization and Readiness (INMAR) Subcommittee.
"Congressman Turner's commitment to this country is unwavering. Throughout his long tenure on the Intelligence Committee, Mike established himself as a national security leader and ardent supporter of truth. Mike's leadership of the committee will continue the great work of Congressman Nunes who has led the committee with integrity. Every American committed to the security and safety of this country should be well-assured of Congressman Turner's leadership of the House Intelligence Committee," House Minority Leader Kevin McCarthy (R-Calif.) said in a statement.
Last year, Turner sought out the top Republican spot on the House Armed Services Committee following Mac Thornberry's retirement, but lost out to Rep. Mike Rogers (R-Ala.) (Defense Daily, Dec. 3 2020).
Turner is also ranking member of HASC's Strategic Forces Subcommittee.