Rep. Doug Lamborn (R-Colo.) is the new top Republican on the House Armed Services Strategic Forces Subcommittee while Rep. Michael Waltz (R-Fla.) is the new ranking member of the Readiness Subcommittee, the panel's GOP leadership said Monday.
The moves were prompted by Rep. Mike Turner (R-Ohio) becoming the new top GOP lawmaker on the House Permanent Select Committee on Intelligence, with Lamborn replacing Turner's ranking member role on Strategic Forces and Waltz then taking over for Lamborn on Readiness.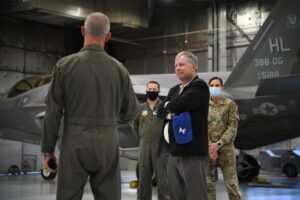 "Rep. Lamborn has been a strong leader on the Readiness subcommittee. I know he will continue his hard work in support of our national security needs in his new role as the Ranking Member of the subcommittee on Strategic Forces. Rep. Waltz served our nation honorably as a Green Beret and I know he will continue to be a strong advocate for the needs of our military in his new role as the Ranking Member of the subcommittee on Readiness," Rep. Mike Rogers (R-Ala.), the HASC ranking member, said in a statement.
Lamborn will now serve as the minority party's top member on the HASC panel tasked with overseeing national security efforts related to nuclear weapons, missile defense and space programs.
"It is no secret that China is undergoing a rapid, unprecedented nuclear build-up including testing new hypersonic missiles. Russia's nuclear program has undergone significant modernization of all three legs of its triad, including the development of anti-satellite weapons that significantly threaten the space domain. It is vital that our military has the resources and capabilities necessary to keep our country safe, particularly in light of these new and growing threats. I will continue working with my colleagues to ensure our Nation is prepared for any attack, whether on land, water, air, or space," Lamborn said in a statement. 
Lamborn represents Colorado's 5th district, which includes Schriever Space Force Base, Peterson Space Force Base, and Cheyenne Mountain Space Force Station, and he has previously said missile defense is "one of my highest priorities."
"While some in Congress are trying to cut funding for missile defense projects, I will continue to support the funding of current missile defense programs and the development of new technology and development. As co-founder of the Missile Defense Caucus, I recognize the importance of a strong missile defense system.  Right now, our military has only a limited defense capability in the event of a threat. Self-declared enemies of America already have some missile capability and our eastern seaboard is largely unguarded from ship-launched missiles," Lamborn wrote on his website. 
Waltz, who also serves on HASC's Strategic Forces and Intelligence and Special Operations panels, cited a need to focus readiness on challenges posed by China, Russia, North Korea and Iran.
"At such a pivotal time for our military, I am grateful to Ranking Member Rogers for the opportunity to lead the Subcommittee on Readiness to ensure America's warfighters are trained and equipped at superior facilities in order to address the multitude of threats facing our country," Waltz said in a statement. 
House Republican leadership appointed Turner as the top GOP member of the Intelligence Committee following Rep. Devin Nunes' (R-Calif.) resignation from Congress last week to become the CEO of former President Donald Trump's new media company (Defense Daily, Jan. 3).