Boeing [BA] has received a $239.6 million deal to integrate the Army's next-generation helicopter engine on its AH-64E Apache helicopters, the Pentagon said on Dec. 23.
The contract to integrate the new General Electric Aviation
[GE]-built Improved Turbine Engine Program (ITEP) engines is expected to be completed by the end of 2026.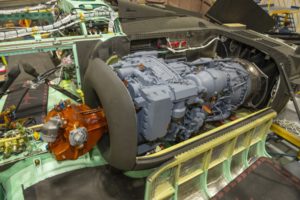 GE Aviation was awarded a $517 million contract in February 2019 to develop ITEP, which will be the future engine for the Army's AH-64 Apache and UH-60 Black Hawk helicopters as well as the Future Attack Reconnaissance Aircraft (FARA) (Defense Daily, Feb. 1 2019).
The Army completed the critical design review for ITEP in the fall of 2020, validating the engine in a completely virtual environment to ensure the process could be conducted during the pandemic (Defense Daily, Sept. 3 2020).
An initial 'First Engine To Test' date, where all subcomponents will be assembled and the engine will be started up for the first time, was slated for late FY '21 but has been pushed into the new year.
The Army on Dec. 28 also awarded Lockheed Martin a $102.4 million contract for production and delivery of Modernized Target Acquisition Designation/Pilot Night Vision Sensor Systems for its Apache helicopters.
Lockheed Martin [LMT] has been delivering the second-generation night vision sensing system, also known as Apache Arrowhead, to the Army since 2005.
Work on the Apache Arrowhead deal is expected to be completed by July 31, 2024, according to the Pentagon.