The Army has completed the critical design review (CDR) for its next-generation helicopter engine, keeping the program on track to run the first engine test in the fourth quarter of fiscal year 2021.
Army officials said the Improved Turbine Engine Program (ITEP) was validated in a completely virtual environment to ensure the process could be conducted during the ongoing pandemic.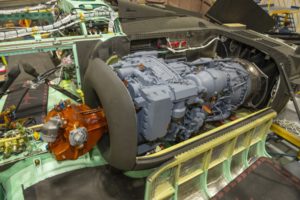 "I'm extremely proud of the entire team for completing the CDR with minimal delays while dealing with challenges caused by COVID-19. The GE team and all USG stakeholders accepted the fate that we would execute the CDR through a virtual environment, and found strategies to complete the CDR to the same standard as an in person review," Lt. Col Travis Harris, the ITEP product manager, said in a statement.
General Electric Aviation [GE] was awarded a $517 million contract in February 2019 to develop ITEP, which will be the future engine for the Army's UH-60 Black Hawk and AH-64 Apache helicopters as well as the Future Attack Reconnaissance Aircraft (FARA) (Defense Daily, Feb. 1 2019).
The CDR for engine components was completed in early June, while the software and total engine system validation was wrapped up in the second half of July, according to the Army.
Completing the CDR milestone sets up ITEP to move toward 'First Engine To Test' in late FY '21, where all subcomponents will be assembled and the engine will be started up for the first time.
Army officials said a successful FETT milestone will be required to ensure the program remains in line with the ongoing FARA competitive prototyping effort.
"As a critical component to the FARA CP first flight, ITEP is maintaining acceleration targets to ensure it meets the FARA timeline," the Army wrote in a statement.
The Army previously selected Lockheed Martin's [LMT] Sikorsky unit and Textron's [TXT] Bell segment to build competitive FARA prototypes (Defense Daily, March 25).