The Navy awarded Northrop Grumman [NOC] an $81 million contract on Aug. 31 to develop new technology for the AGM-88 Advanced Anti-Radiation Guided Missile (AARGM) family of weapon systems.
"The contract will provide for the development of new technology to expand mission effectiveness for both AARGM, currently in production, and the extended range variant currently in development," company spokeswoman Nancy Stoehr-Campbell told Defense Daily in a statement.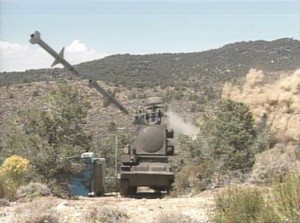 The contract announcement underscored it provides for technology demonstrations, product improvement initiatives, technology insertion and transition activities, integration and testing of various warfare systems, mission analysis and mission architecture development. This effort is also expected to provide recommendations to support the Concept of Operations development and military utility analysis. This is an indefinite-delivery/indefinite-quantity contract.
Work will occur in Northridge, Calif., and is expected to be finished by August 2025. No funds were obligated at time of award but will be obligated for individual orders as they are issued. The contract was not competitively procured pursuant to U.S. Code regulations. The specific contracting activity for this award is the Naval Air Warfare Center Weapons Division, China Lake, Calif.
The contract was technically awarded to Alliant Techsystems Operations LLC, but that business became Orbital ATK in 2015 and then in 2018 the business was bought by Northrop Grumman.
This is seemingly unrelated to ongoing work on the AARGM-Extended Range (AARGM-ER) effort.
The Navy last finished the Critical Design Review for that missile following initial flight tests of it on an F/A-18 Super Hornet in June. Testing of the modified weapon is planned for several more years until it reaches initial operational capability in FY 2023 (Defense Daily, June 5).
Northrop Grumman has also received recent contracts to convert existing Advanced Guided Missle-88B High Speed Anti-Radiation Missiles into AGM-88E AARGM all-up rounds for the Navy and Germany (Defense Daily, March 13).