The Navy submitted an abridged long-range shipbuilding plan to Congress without the details of construction past fiscal year 2022 and which downplays plans for a 355-ship fleet.
The plan, due with the fiscal year 20222 budget request but delivered late, said it "highlights the future vectors the Navy will assess in coordination with the Office of the Secretary of Defense (OSD), and test in experimentation, to build a modernized naval force with sufficient size and capability to compete effectively, deter aggression, and, if required, win decisively in combat."
Similar to how the overall Defense Department budget did not disclose the five-year Future Years Defense Plan, this report did not disclose plans for future ship construction past FY '22. It reiterated the FY '22 shipbuilding request and said it aligns shipbuilding with the President's Interim National Security Strategic Guidance and "includes the most recent warfighting analysis available."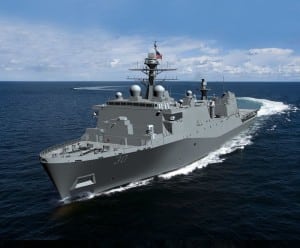 The budget request consists of eight new battle force ships, including one Arleigh Burke-class Flight III destroyer instead of the planned two; one new Constellation-class frigate; two Block V Virginia-class submarines; one T-AO 205 class fleet oiler; two Navajo-class T-ATS 6 towing, salvage and rescue ships, one more than planned; and one T-AGOS(X) ocean surveillance ship (Defense Daily, May 28).
The report said "the Department will submit a complete 30-year shipbuilding plan with the President's Budget for FY2023 (PB2023)."
While the plan was light on new definitive long-range plans for the fleet, instead of traditional tables outlining planned service purchases through 2052, it listed a potential range of naval platforms, with a total battle force fleet of 321 to 372 manned vessels.
This included nine to 11 aircraft carriers; eight to nine LHA/LHD-style amphibious assault ships; 16 to 19 other large amphibious warfare ships; 24-35 small amphibious warfare ships, including the future Light Amphibious Warship (LAW); 63 to 65 Large Surface Combatants; 40 to 45 Small Surface Combatants; 66 to 72 attack submarines/large payload submarines; 12 ballistic missile submarines as planned; 56 to 75 combat logistics force, including the next generation logistics ship (NGLS); and 27-29 support vessels.
The plans also listed potential ranges for unmanned vessels. This would be 59 to 89 unmanned surface vessels (USVs) and 18 to 51 unmanned undersea vessels (UUVs), for a total of 77 to 140 unmanned vessels. Combined with the manned forces the future fleet could range from 398 to 512 ships total.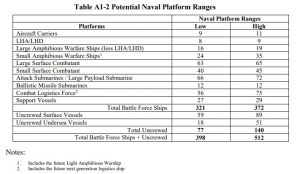 The report said these ranges, combined with the broader Naval and Joint Force capabilities, "incorporate combat effectiveness, production feasibility, and likely fiscal limits. Investment priorities include ensuring sufficient capacity in our survivable and lethal submarine force, maintaining the Joint Force's most survivable and adaptable aviation base in the aircraft carrier, and increasing the small surface combatant force to better support Distributed Maritime Operations."
The plan noted that new platforms like USVs and UUVs, NGLS and LAW have great potential, "but also have greater developmental risk. This is represented by a wider objective range."
The Navy said as prototyping and experimentation on these vessels clarify the technical and concepts of operations uncertainty and risk, while also providing a better understanding of associated costs, "we expect that the objective force ranges will narrow."
The plan said the Navy is continuing to study a range of solutions to maintain sea control and power production under the framework of Distributed Maritime Operations (DMO). 
"Study areas include, but are not limited to, the future aircraft carrier, Next Generation Logistics Ship, amphibious ships, and the next generation attack submarine. Ongoing analysis and experimentation will define required combat effectiveness and emphasize the focus on warfighting capability and readiness. This analysis and experimentation will be informed by operationally relevant metrics including, but not limited to, lethality, survivability, operational reach, vertical launch system cells, torpedo tubes, sortie generation rates, lift capacity, affordability, and industrial base viability and capacity," the report said.
This plan reiterated the previous analysis from the December 2020 shipbuilding plan, particularly noting the U.S. needs a balanced naval force capable of striking in all domains, emphasizing distributed awareness, lethality, and survivability in high-intensity conflict against a near-peer competitor capable of global operations. 
That previous plan, delivered nearly a year late and as the Trump administration was on its way out, mapped out plans for massive fleet increases, aiming to raise the fleet past 400 ships by the 2050s (Defense Daily, Dec. 10, 2020).
For now, the Navy said it is working closely with the Defense Department's Director of Cost Assessment and Program Evaluation (CAPE), to continue to develop "comparative assessments of naval force structure options consistent with Interim National Security Strategic Guidance and designed to maximize the maritime contribution to the joint force."
All of that experimentation, prototyping, and planning is set to be reflected in the FY 2023 shipbuilding plan, the report said.
The report continued the Navy's focus on undersea warfare, noting the factors in maintaining submarines production and associated industrial base considerations.
"Maintaining the undersea advantage is a priority for the Navy," the report said. "As the Navy's most survivable strike platforms, SSNs and SSBNs are key to both deterrence and winning conflict against a rival power. To meet the demand for additional submarines, industrial base capacity must be expanded. The plan beyond the Future Year Defense Program (FYDP) reflects an increase in SSN production that is fully realized with the conclusion of the Columbia class procurement and delivery. We continue to evaluate the industrial base capacity increase required for more consistent delivery of two SSNs per year during Columbia serial production and subsequent potential increases to SSN procurement."
The document also noted while large surface combatants like the Flight III DDG-51 destroyers and future DDG(X) directly support the DMO and are key in sea denial and control mission, "increased numbers of small multi-mission combatants, such as Constellation-Class Frigates (FFG-62), enable more efficient distribution of missions across the surface fleet, freeing up more capable assets (CGs and DDGs) for critical high-end missions."
Indeed, the Navy said its previous Future Naval Force Study "indicated that growing the small surface combatant force enables reductions in the quantity of large surface combatants while yielding a more distributed and lethal force."
It also noted the utility of enabling Marine Littoral Regiments (MLRs) as part of the Marine Corps' Force Design 2030 effort to overhaul the force. 
"This approach requires a new mix of amphibious warships (LHA/LPD) and includes the Light Amphibious Warship (LAW), which is an enabler of MLR mobility and sustainability. The overall number of amphibious warships grows to support the more distributed expeditionary force design, with LAWs complementing a smaller number of traditional amphibious warships."
Separately, the plan said the Navy's FY '22 budget request continues a commitment to surge sealift requirements via procuring used vessels to replace aging surge sealift capacity and conversion/upgrade of newly-procured used Roll-On/Roll-Off (RO/RO) vessels "to be performed in U.S. shipyards in a profile closely aligned to the procurement schedule."
In FY '22 the service plans to conduct service lift extension on the 10 most viable surge sealift vessels, retire the seven least-ready RO/RO vessels, retire four special mission ships, and fund procurement of five additional used vessels for $369 million.