The Pentagon could offer details in the next month on how the department will move forward on an enterprise cloud computing solution, Deputy Defense Secretary Kathleen Hicks said Monday, while the current Joint Enterprise Defense Infrastructure (JEDI) contract remains stuck in legal proceedings.
"We're very actively looking at our options right now, and we have a good sense of what our needs are and we're working through what the potential solutions are. We'll be moving forward in a direction over the next month or so. But I'm not going to get into where we might end up," Hicks said during a Defense One
Tech Summit discussion.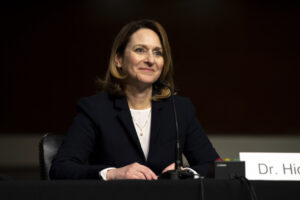 Hicks declined to comment on JEDI specifically, noting the litigation over the contract award is ongoing, while noting the department "must have an enterprise cloud solution approach" in order to implement the ongoing Joint All Domain Command and Control (JADC2) strategy.
Microsoft [MSFT] originally beat out Amazon Web Services [AMZN] for the potential $10 billion JEDI cloud contract in October 2019, while the program has stalled out during AWS' ongoing legal challenge which includes allegations that former President Donald Trump interfered in the contract award decision.
Since then, the Pentagon has re-awarded the JEDI deal to Microsoft following a court-ordered review period, which AWS then called a "a flawed and politically corrupted decision" and continued its challenge in court. In April, AWS' lawsuit moved forward after a federal court denied motions from the Department of Justice and Microsoft to dismiss the interference claims (Defense Daily, April 28). 
The Pentagon has said previously that if AWS' motion is not dismissed it could "elongate the [JEDI] timeline significantly" and lead the department to reassess its strategy for the entire program (Defense Daily, Jan. 29). 
Marine Corps Lt. Gen. Dennis Crall, the joint staff's chief information officer, also spoke at the Monday event following Hicks and said he agreed the department will require an enterprise cloud solution in order to fully implement JADC2 at-scale.
"Where I'm at today is allowing me to do the experimentation and implementation because I'm not at scale. But I'm not trying to excuse the fact that we need an enterprise [cloud] solution and we will need it soon," Crall said. "I'm hopeful that as we move through whatever process is taking place that we will have an option available to us so that we can expand the work that we're doing."
Defense Secretary Lloyd Austin signed off on the department's JADC2 strategy on May 13, which Crall has said now "brings about a sense of order" and accountability for the various technology and experimentation efforts being worked across the department (Defense Daily, June 4).