The Pentagon has said if a federal court does not dismiss Amazon Web Service's [AMZN] claim of political influence by the Trump administration in the decision to award the potential $10 billion Joint Enterprise Defense Infrastructure (JEDI) cloud contract to Microsoft [MSFT] the department could be forced to reassess its strategy for the entire program.
The department sent a document to Congress on Thursday afternoon detailing the potential impacts of the court's imminent ruling, noting if the AWS' motion is not dismissed it could "elongate the [JEDI] timeline significantly."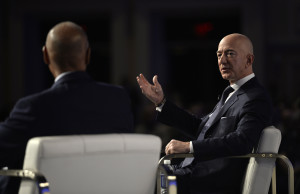 "Regardless of the JEDI Cloud litigation outcome, the Department continues to have an urgent, unmet requirement. Specifically, the Department's need for an enterprise-wide, commercial cloud services for all three classification levels, extending from the homefront to the tactical edge, at scale. We remain fully committed to meeting this requirement—we hope through JEDI—but this requirement transcends any one procurement, and we will be prepared to ensure it is met one way or another," John Sherman, the acting DoD chief information officer, wrote in the document.
If the court decides not to dismiss AWS' claim of improper influence in the award decision, the Pentagon said it would result in a lengthy litigation process that "might bring the future of the JEDI Cloud procurement into question."
"Under this scenario, the DoD CIO would reassess the strategy going forward," the department wrote. "Whatever the outcome, the Department's unsolved capability gaps would still remain for enterprise wide, commercial cloud services – at all three classification levels – stretching from the homefront to the tactical edge – at scale."
However, if the court does dismiss the claim, the Pentagon said it expects the litigation process for AWS' larger complaint, "related to the rationale of the evaluation and award decision," to be litigated for another four to five months. 
Work on JEDI would continue to remain on pause while the court considers AWS's legal complaint. 
In September, the Pentagon re-awarded the JEDI contract to Microsoft following a court-ordered review period where DoD was required to assess technical aspects of the contract and allow both companies to re-bid for the work (Defense Daily, Sept. 4). 
Microsoft originally beat out AWS for the JEDI cloud contract in October 2019, following a series of program delays, allegations of conflict of interest, pre-award protests and congressional and industry pushback over the Pentagon's decision to go with a single-award approach.
More recently, AWS said it believes the Pentagon made "a flawed and politically corrupted decision" in reaffirming Microsoft as the winner of JEDI and asked the court to overturn the award claiming it had a superior proposal at a more affordable price (Defense Daily, Dec. 16).