Amazon Web Services [AMZN] has asked a federal court to overturn the Pentagon's re-award of the potential $10 billion Joint Enterprise Defense Infrastructure (JEDI) cloud contract, alleging it had a superior proposal at a more affordable price than Microsoft
[MSFT].
In court documents made public on Tuesday, AWS said it believes the Pentagon made "a flawed and politically corrupted decision" in reaffirming Microsoft as the winner of JEDI, following a series of court-ordered corrective actions for the contracting process.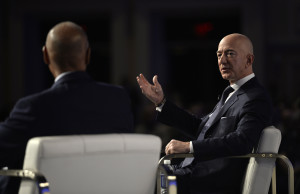 "As a result of the DoD fixing just one of many errors, the pricing differential swung substantially, with AWS now the lowest-priced bid by tens of millions of dollars. The fact that correcting just one error can move the needle that substantially demonstrates why it's important that the DoD fix all of the evaluation errors that remain unaddressed, and ensure they are getting access to the best technology at the best price," an AWS spokesperson said in a statement. "We had made clear that unless the DoD addressed all of the defects in its initial decision, we would continue to pursue a fair and objective review, and that's exactly where we find ourselves today."
The Pentagon re-awarded the JEDI contract to Microsoft in September following a court-ordered review period where DoD was required to assess technical aspects of the contract and allow both companies to re-bid for the work (Defense Daily, Sept. 4).
Microsoft originally beat out AWS for the JEDI cloud contract in October 2019, following a series of program delays, allegations of conflict of interest, pre-award protests and congressional and industry pushback over the Pentagon's decision to go with a single-award approach.
"Amazon seems to be saying the only way they can ever lose is if the procurement isn't fair. But every month, the market tells them that's not true. Large and sophisticated customers regularly choose Microsoft over AWS. They do this because of the strength of our technology, our understanding of complex projects, and our overall value," Frank Shaw, corporate vice president of Microsoft Communications, said in a statement. "As the losing bidder, Amazon was informed of our pricing and they realized they'd originally bid too high. They then amended aspects of their bid to achieve a lower price. However, when looking at all the criteria together, the career procurement officials at the DoD decided that given the superior technical advantages and overall value, we continued to offer the best solution."
AWS' complaint suggests the Pentagon did not have any intention of awarding it the JEDI contract, and said the re-award to Microsoft was "riddled with errors even more egregious than those that plagued the initial award."
"Faced with the untenable combination of Microsoft's technical inferiority and now-higher price, DoD manipulated its evaluations to a degree that belies any façade of rationality," the company wrote in the court document, asking for further legal scrutiny into the award decision.