The goal of the Future Airborne Capability Environment (FACE) technical standards is to make military aircraft platforms more interoperable, affordable, and quickly upgradeable. Boeing [BA], the Army, AdaCore, and Presagis came together during the Accelerating Avionics Design & Testing through FACE Conformance webinar to discuss how each of their technologies was able to be integrated within each other's platforms using the FACE Technical Standards to create improved military avionics systems. 
Boeing is using the FACE Technical Standards on platforms like FARA and FLRAA mission systems, advanced Apache, ARINC-661 Cockpit Display System, and its Flight Deck Software that features the Geospatial Embedded Mapping Software (GEMS) and User Experience (UX) Flight Deck framework, Mark Moody, technical fellow at Boeing, said during the panel. Because Boeing is using the FACE Technical Standards in these platforms, other FACE conformant technology can be easily integrated.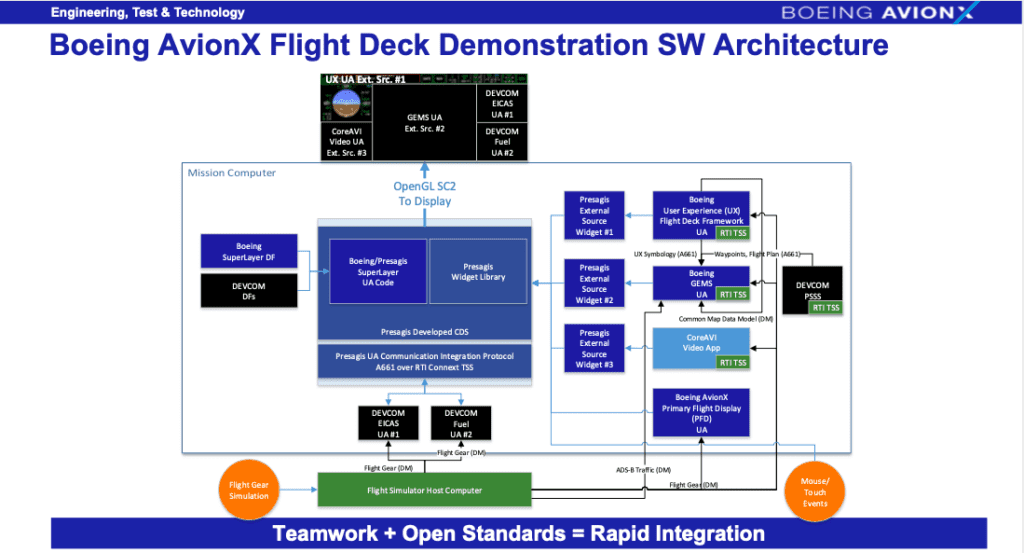 "The Boeing avionics flight deck demonstration would not be possible without our partners," Moody said. "AdaCore has provided their GNATPro development suite, Boeing is providing the UX Crew Systems framework and GEMS digital map, Presagis is providing the ARNIC-661 CDS [Cockpit Display System], RTI is providing the FACE TSS [Transport Services Segment], U.S. Army DEVCOM is providing ARINC-661 user applications." 
The Army Combat Capabilities Development Command (DEVCOM) is leveraging UHPO's Crew Mission Systems (CMS) engine-indicating and crew-alerting system (EICAS) and fuel monitoring capability to integrate into Boeing's Flight Deck Software in a display window. By using FACE Technical Standards, they only had to make one change to the code to do this. However, they are hoping to get to a point where no changes are necessary.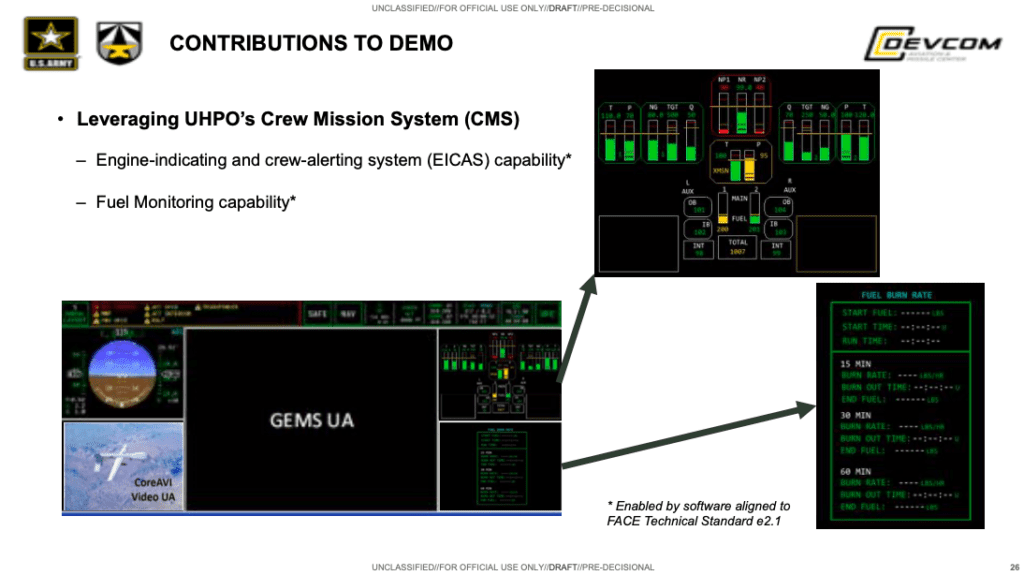 "This integration was successful due to ARNIC-661 and the FACE Technical Standard," Chris Edwards, the lead systems engineer for CMS at DEVCOM, said. "The applications we developed support the FACE e2.1 Technical Standard and for this demonstration, the only code modification that was necessary was a couple of constants in our iCast page due to the changed screen size. The rest of the CMS software was simply recompiled it relates to the latest RTI DDS software."
The integration of these technologies reduced costs for Boeing and also allowed them to focus on content creation innovation for workload reduction using GPU computing and machine learning, Moody said. 
AdaCore, a software tools company, supplies the GNAT Pro Ada Development Environment used to implement Boeing's GEMs code, Benjamin Brosgol, a member of the senior technical staff at AdaCore and the vice-chair of the FACE Consortium's technical working group, said. The GNAT Pro Ada Development Environment is a toolset for designing, implementing, and maintaining applications that require high reliability and maintainability, such as military aircraft. 
"The Ada language and AdaCore's static analysis tools help catch errors and vulnerabilities early, which cuts cost," Brosgol said. "More specifically in a FACE context we have several Ada runtime libraries that have been part of DO-178C certified airborne systems, and which implement the safety and security capability sets defined in the FACE technical standard. And one of our static analysis tools is a coding standard checker, which can verify that a customer's FACE software stays within the constraints of these Ada capability sets."
Presagis' ARNIC-661 CDS allows Boeing and Army DEVCOM to share a single display using ARINC-661 compliant user applications, OpenGL, and legacy applications, Matt Jackson, the technical product manager at Presagis, said. The Presagis software tools are used to create layer definition files (DFs) that control the layout of the user applications on the display. 
Creating an open architecture standard for avionics systems will change the way companies build and upgrade avionics systems making aircraft easier to develop and maintain. 
"The FACE approach is, first of all, it starts with a technical standard that defines a common operating environment designed to promote portability and create software product lines across the military aviation domain," Chip Downing, senior market development director at RTI, said. "What that means that we can create different types of software application levels or below that grow across aircraft platforms. We're breaking the model of using one set of software for one type of aircraft, you can now move this between aircraft, whether that's manned or unmanned."