General Electric [GE] said Wednesday it won a contract to provide a gas turbine to power the new Constellation
-class (FFG-62) frigate.
Fincantieri Marinette Marine won a contract to build the initial 10 frigates based on the Italian FREMM design in April (Defense Daily, April 30).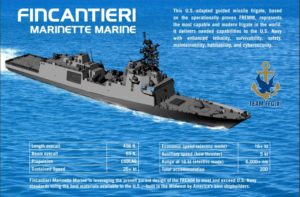 GE will provide a GE LM2500+G4 aeroderivative marine gas turbine to power the new frigates. The company is also going to provide the gas turbine auxiliary skids (electric start, fuel forwarding and water wash systems) as well as the gas turbine control system.
The company did not disclose the value of the contract.
GE underscored the frigates will have the same gas turbine as the FREMM ships in a Combined Diesel Electric and Gas (CODLAG) turbine propulsion system and this agreement will mark the first U.S. Navy use of the LM2500+G4.
"The FFG 62 marks the initial U.S. Navy use of the LM2500+G4 engine. To date, 37 LM2500+G4 gas turbines have been chosen for surface combatants and two for commercial marine ships, as well as more than 1,100 of these engines operating worldwide in industrial settings. The U.S. Navy will benefit from Fincantieri's low-risk, proven ship design powered by GE's reliable LM2500+G4 gas turbine," Kris Shepherd, vice president and general manager at GE Marine, said in a statement.
These turbines are certified to a U.S. Navy rating of 30.3 megawatts and GE said they will be supplied in GE's composite gas turbine module.
The LM2500+G4 was first introduced in 2012 on the French Navy's FREMM multipurpose frigate Aquitaine and later on the Italian Navy's FREMMs.