Amazon Web Services [AMZN] said Monday the company is seeking to depose President Trump and Defense Secretary Mark Esper in its ongoing legal challenge of the Pentagon's decision to award the potential $10 billion Joint Enterprise Defense Infrastructure cloud contract to Microsoft [MSFT].
Court documents unsealed on Monday detail AWS' call to receive testimony from senior officials on allegations the Pentagon left out critical details in its explanation of the decision to award the contract to Microsoft and the president's bias to "screw Amazon" in the competition.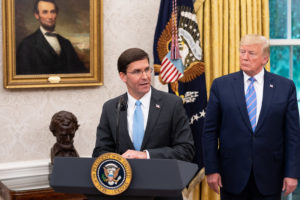 "President Trump has repeatedly demonstrated his willingness to use his position as president and commander-in-chief to interfere with government functions – including federal procurements – to advance his personal agenda," an AWS spokesperson said in a statement. "The preservation of public confidence in the nation's procurement process requires discovery and supplementation of the administrative record, particularly in light of President Trump's order to 'screw Amazon.' The question is whether the President of the United States should be allowed to use the budget of the DoD to pursue his own personal and political ends."
Microsoft beat out AWS for the JEDI cloud contract in October, following two years of program delays, allegations of conflict of interest, pre-award protests and congressional and industry pushback over the Pentagon's decision to go with a single-award approach.
The new documents also call for testimony from former Defense Secretary Jim Mattis, current DoD CIO Dana Deasy and the source selection committee, according to AWS, and detail allegations that the Pentagon did not provide thorough responses to any of the company's debriefing questions.
Amazon announced in November that it would be protesting the contract award, claiming the evaluation process included "deficiencies, errors, and unmistakable bias," ultimately deciding to file a lawsuit with U.S. Court of Federal Claims rather than challenging the decision with the Government Accountability Office (Defense Daily, Nov. 15).
In January, the company said it filed a motion seeking to pause Microsoft's work on JEDI, which is set to begin this month, until the court makes a final decision on its protest of the contract award (Defense Daily, Jan. 23).