Amazon [AMZN] will protest the Pentagon's decision to award the potential $10 billion Joint Enterprise Defense Infrastructure (JEDI) cloud contract to Microsoft [MSFT], and is claiming the evaluation process included "deficiencies, errors, and unmistakable bias."
The company confirmed to Defense Daily on Thursday evening that it has submitted a notice to the U.S. Court of Federal Claims challenging the contract award decision.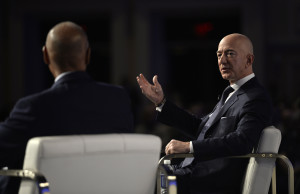 The Pentagon announced on Oct. 25 it had selected Microsoft Azure over Amazon Web Services (AWS) for JEDI, following two years of program delays, allegations of conflict of interest, pre-award protests and congressional and industry pushback over the Pentagon's decision to go with a single-award approach (Defense Daily, Oct. 28). 
"AWS is uniquely experienced and qualified to provide the critical technology the U.S. military needs, and remains committed to supporting the DoD's modernization efforts. We also believe it's critical for our country that the government and its elected leaders administer procurements objectively and in a manner that is free from political influence," a company spokesperson told Defense Daily. "Numerous aspects of the JEDI evaluation process contained clear deficiencies, errors, and unmistakable bias- and it's important that these matters be examined and rectified."
Amazon had been viewed as the favorite for the award, while also receiving scrutiny from the president who asked the Pentagon to review the JEDI competition and said he had received complaints from companies on the procurement process.
Following the JEDI contract award, Pentagon CIO Dana Deasy told lawmakers he did not believe there was any outside political pressure, including from the White House, on the JEDI decision (Defense Daily, Oct. 29).
David Berteau, president of the Professional Services Council, told Defense Daily that he predicted JEDI implementation will now be delayed, while noting that Amazon's decision to go with a lawsuit rather than filing a protest with the Government Accountability Office makes it difficult to predict the outcome of the contract challenge.
"As to the duration of such a delay, we cannot predict.  The GAO protest process has a timeline defined in statute, and decisions are issued within 100 days.  The court has no such constraint. We have seen cases decided rapidly, and we have seen cases that take years.  Since we do not know the depth or magnitude of the claim, it is impossible to predict the length of any delay. What we can say with confidence is that there will be a delay," Berteau said. 
The Pentagon declined to comment on the latest update, with a defense officials telling Defense Daily they would not comment on potential litigation.
Federal Times first reported Amazon's move to protest the JEDI award, noting that AWS CEO Andy Jassy announced the decision at a company meeting on Thursday.