Top Navy officials on Friday told reporters a year-long continuing resolution could result in over $20.6 billion in misaligned funding, with the service anticipating numerous programs to be halted, including the future frigate (FFG(X)) award and critical ship maintenance activities, if Congress continues to delay passing a defense appropriations bill.
James Geurts, the Navy's top acquisition official, and Thomas Harker, the service's comptroller, said the Navy faces losing $5.2 billion for new programs, $5.3 billion for production increases and and over $10 billion in appropriation rate increases if a stop-gap funding bill extends for a year with no program exemptions.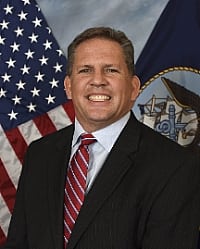 "Anytime you create uncertainty, you create large cost impacts and inefficiencies. And they tend to extend much further than just the amount of time you were under that uncertainty," Geurts said. "As CRs start to extend, or the uncertainty of how long the CR will extend, then those all start to become a risk. And then at some point, we are either going to need to get relieved through an anomaly or we're going to have to take the impact."
Congress previously passed a CR to keep the government open through at least Nov. 21, but the move locks in defense spending at last year's funding levels.
Geurts and Harker noted that the Navy typically schedules major contract awards for later in the fiscal year to lessen the impact under a stop-gap funding, with officials noting an increasing urgency to prioritize slim resources as a CR extends into the new year.
"We've got to make hard choices at the beginning of the year. You've got a lot of fixed infrastructure, bills you've got to pay, so anything that's variable that can move around you're weighing those [options]," Geurts said.
Harker said Navy officials are working on a list of high-priority programs they would seek exemptions for to allocate funding under a likey subsequent CR.
"We have started developing that list. This year, because of the way the acquisition contracts are structured, we don't need any anomalies in the first quarter," Harker said.
Geurts noted the Navy's recent emphasis on improving ship maintenance efforts, and cited two awards planned for early November to work on the USS Bainbridge (DDG-96) and USS Gonzalez (DDG-66) that are now delayed due to the CR.
The planned award for FFG(X) is still on track for FY '20, according to Geurts, who also acknowledged that an extended CR would cause the future frigate program to be delayed.
"We're certainly pushing an award date in our mind for the [Future] Frigate, depends on the selection process that's ongoing. If at that point, we have not gotten either a full budget or an anomaly, then our only choice is to delay the decision," Geurts said. "If we are in a full-year CR without anomalies, I would not be able to award the frigate this year."
Additional documents provided by the Navy on the impact of a year-long CR without anomalies notes that delays to new start programs and rate increases would affect six ships, 31 aircraft, 32 helicopter training systems, about 500 weapons, 33 construction projects and 25 procurement and research and development efforts.