The secretary of defense said Tuesday a likely outlook for flat budgets in coming years will lead the department to prioritize moving on from legacy programs to ensure funding for its full range of modernization commitments.
Secretary Mark Esper told reporters the Pentagon would not "risk the strategic deterrent," affirming nuclear capability modernization as the department's top priority.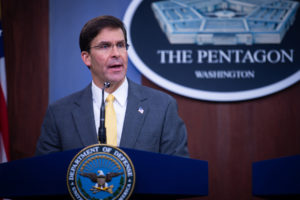 "Frankly, my inclination is not to risk any of the modernization programs. It's to go back and pull out more of the legacy programs. We need to move away from the legacy and we need to invest those dollars into the future," Esper said. "That is where I would start. What that would probably mean is accepting some near-term risk, but I think that's important given the trajectory we see that China is on and we know where Russia may be going in the coming years."
Esper has spearheaded a new defense-wide review process during his time leading the department, which has led to finding $7 billion to shift from legacy programs toward higher priority efforts (Defense Daily, Feb. 6).
"We're going to look at those things in due course. We're going to be very deliberate about it," Esper said. "We're not going to risk the strategic deterrent. We certainly need to modernize that, and all things."
During a discussion Monday with the Brookings Institution, Esper said he believes the trillions provided in stimulus packages during the pandemic will lessen the Pentagon's probability of receiving the three to five percent annual budget growth he's called for previously to meet modernization initiatives (Defense Daily, May 4).