The Pentagon's defense-wide review process has found $7 billion to shift toward higher priority efforts, Defense Secretary Mark Esper said Thursday, while adding the department is still pushing for three to five percent annual budget growth to meet modernization initiatives.
Esper told attendees at a Johns Hopkins School of Advanced International Studies event the reform effort he spearheaded included reviewing $99 billion in appropriations across the department's Fourth Estate agencies, resulting in $5 billion in potential savings and $2 billion that could be transferred to service departments.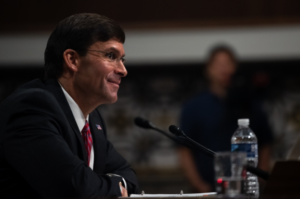 "The majority of it came from legacy activities that don't adequately support the National Defense Strategy requirements, as well as decreasing overhead and shedding lower priority programs," Esper said. "These savings will be invested in cutting edge innovation and warfighting requirements of our core missions, including a strong and reliable nuclear deterrent, missile defense, hypersonics, AI, secure 5G technologies, the Space Force and responsive force readiness."
The plan to move $7 billion from the Fourth Estate offices will be included in the department's proposed FY21 budget set to rollout on Monday.
Esper said the Pentagon is preparing to defend its shift away from legacy systems and lower priority programs to Congress to sustain the "irreversible momentum" required to implement the National Defense Strategy and prepare for growing power competition with China and Russia.
"There are a lot of challenges and we need to meet them all. What we need to do is get a solid budget. I think in the years ahead we're going to need to get back on the trajectory of three to five percent real growth annually to make sure we can sustain those changes," Esper said.
The Pentagon plans to continue, as well as expand, the defense-wide review process to find extra dollars for modernization as officials expect likely flat budgets in the coming years, according to Esper.
"We have to brace ourselves for the fact that, at best, defense spending will be level. That really means that we have to dig deep and look at ourselves. We should be able to defend our great country with the amount of money that we're given. And that means we're going to have to make tough choices, and I'm prepared to make the tough choices."