The Biden administration will propose spending $753 billion on national defense in fiscal year 2022, including $715 billion for the Pentagon, which would represent a slight increase over FY '21 spending levels, according to documents released Friday.
The FY '22 request falls below senior Pentagon officials and Republican lawmakers previous calls for three to five percent budget growth to meet initiatives required for competition with China and Russia, and is likely to disappoint progressive lawmakers who have placed pressure on Biden to cut defense spending and redirect funds toward more domestic priorities.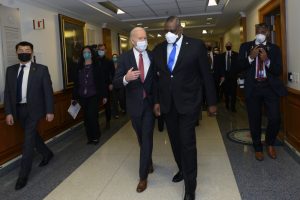 "The pursuit of our national security interests requires investments that target and align our priorities and capabilities to address the constantly evolving and dynamic threat landscape," Defense Secretary Lloyd Austin wrote in a statement on the budget request. "The President's discretionary funding request represents an important investment that will ensure the Department's resources are matched with our strategy and policy to defend the nation and take care of our people, while revitalizing the key alliances and partnerships to succeed."
Friday's request only details topline funding levels with scant information on specific priorities, with Shalanda Young, Biden's acting budget director, noting in a letter to lawmakers that the full request will likely only be presented in "the months ahead."
"As is typical in a transition year, however, the Budget will not be available in time for the start of the Congress's annual appropriations and budget process," Young wrote.
However, Friday's documents did outline several defense priorities for the administration including divesting of legacy systems to fully fund higher priorities, reassessing force structure requirements, investing in the Navy's attack submarine and unmanned systems programs, modernizing with new long-range fires and supporting ongoing nuclear modernization programs.
The $715 billion for the Pentagon would represent a 1.6 percent increase over FY '21's $704 billion budget, but falls below the Trump administration's projected topline of $722 billion for FY '22.
The request also calls for getting rid of the Overseas Contingency Operations (OCO) fund, which has faced criticism as a means for workaround spending and instead "funding direct war costs and enduring operations in the DoD base budget, a significant budgetary reform," according to the documents.
The White House has also signaled support for the Pacific Deterrence Initiative, which the commander of U.S. Indo-Pacific Command said recently he expects the budget request will include key investments to begin funding a portion of the $27 billion required for the new effort (Defense Daily, March 4).
Lawmakers on both sides of the aisle have already signaled resistance to the request, to include a joint statement of opposition from five key GOP senators: Majority Leader Mitch McConnell (R-Ky.), Sen. Jim Inhofe (R-Okla.), ranking member of the Armed Services Committee, Sen. Richard Shelby (R-Ala.), vice chair of the Appropriations Committee, Sen. Lindsey Graham (R-S.C.), the Budget Committee ranking member, and Sen. Marco Rubio (R-Fla.), vice chair of the Committee on Intelligence.
"President Biden's budget proposal cuts defense spending, sending a terrible signal not only to our adversaries in Beijing and Moscow, but also to our allies and partners. Cutting America's defense budget completely undermines Washington Democrats' tough talk on China and calls into question the administration's willingness to confront the Chinese Communist Party," the Republican senators wrote. "President Biden's own Pentagon leadership team acknowledges that the defense strategy they inherited is largely on the right track, and that resourcing the strategy requires significant real growth in the defense budget. Anything less than real growth will force the Department to choose between taking care of service members and ensuring they have the tools and training to meet new and growing threats."
Rep. Mike Turner (R-Ohio), the top Republican on the House Armed Services Strategic Forces Subcommittee, also released a statement citing concern that the lack of significant topline growth may lead toward "cuts to critical programs."
"DoD officials and military experts were clear: A 3-5% increase in defense spending over the inflation adjusted FY21 enacted level is necessary to keep America and our allies safe. However, President Biden's proposed 'skinny' budget fails to account for this growth, and this could mean cuts to critical programs." Turner said in a statement. "While I'm encouraged that the Biden Administration intends to support nuclear modernization, amid growing threats from China, North Korea, Iran and Russia, any defense cuts will be cause for concern. Instead of prioritizing spending for partisan policies, President Biden should put American national security interests first by following the advice of military experts as he prepares the full details of his budget proposal."
Rep. Ro Khanna (D-Calif.), a member of HASC, cited support for the decision to cut the OCO fund but called the decision to increase defense spending "disappointing" and raised concerns over potential "wasteful spending such as funding the new GBSD ICBM missiles," which he noted is likely to cost $100 billion over a 10-year period.
"At a time when his own Treasury Secretary, Janet Yellen, recently criticized a federal budget that is basically 'military and pensions' without building our productivity capability here at home, it's disappointing that President Biden would propose a budget of $715 billion for the Pentagon, an increase of 1.6% over Trump's $704 billion budget, instead of working toward returning to the Obama-Biden era spending levels," Khanna wrote. "We need a fundamental shift in how we address national security issues and invest in climate action and pandemic response. Those are the issues impacting the security of the American people and will keep Americans safer than spending billions on more deadly weapons."