The commander of U.S. Indo-Pacific Command said Thursday he expects the upcoming fiscal year 2022 budget request will include key investments to begin funding a portion of the $27 billion required for the new Pacific Deterrence Initiative (PDI).
"I'm encouraged so far by some of the initial investments I'm seeing in the [FY] '22 [budget]. And that budget is under review by [Kath Hicks], the deputy secretary of defense. I'm encouraged that she articulated that PDI has got to be one of the priorities that are addressed in that," Adm. Philip Davidson, the INDOPACOM chief, said during a discussion with the American Enterprise Institute.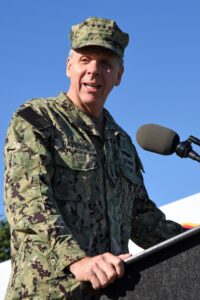 Davidson's remarks arrive after INDOPACOM has submitted an investment plan for PDI to Congress seeking more than $27 billion between fiscal years 2022 and 2027, with a focus on acquiring a new air defense system for Guam and adding more ground-based, precision-strike capabilities (Defense Daily, March 2).
After kickstarting the PDI effort with $2.2 billion in the FY '21 budget, Davidson said Congress has placed a $5.5 billion spending cap for FY '22, noting "that's less than seven-tenths of one percent of the DoD budget as it stands."
PDI is aimed at bolstering deterrence efforts against China, with Davidson adding he believes their bipartisan support for new capability investments will serve as "critical enablers that provide for joint integration."
"The period between now and 2026, this decade, is the time horizon in which China is positioned to achieve overmatch in its capability and when Beijing could likely choose to forcibly change the status quo in the region," Davidson said. "Our investments must harness the advanced capabilities provided by a network of bleeding edge technologies. Those capabilities are critical enablers to deter both day-to-day and in crisis, and if deterrence fails [they'll be] key to our ability to fight and win."
The top PDI capability priority for INDOPACOM is delivering a "360-degree persistent and integrated air defense capability" to Guam, to be called the Guam Defense System, with the investment plan calling for $350 million in FY '22 funding and another $1.3 billion from FY '23 to '27.
"A highly adaptable, fully capable and proven system like Aegis established in a fixed location like Guam will deliver persistent 360-degree integrated air and missile defense from the Second Island Chain. In addition to defending U.S. citizens and American soil, this Guam Defense System will also be capable of conducting the full spectrum of the detect-to-engage sequence; the sensing, the networking and the delivery of fires to support our maneuver," Davidson said.
Davidson said the Guam Defense System could accomplish the same level of deterrence as three Guided Missile Destroyers, essentially freeing those platforms for a wider-range of missions.
"We need to free up those Guided-Missile Destroyers, who have multi-mission capability to detect threats and finish threats under the sea, on the sea and above the sea, so that they can move with the mobile and maneuverable Naval forces that they were designed to protect and provide their ballistic missile defense," Davidson said. "In all, the Guam Defense System will allow us to regain the advantage, help us deter China and it will demonstrate our steadfast commitment to our allies and partners in the region."