Lockheed Martin [LMT] announced Thursday it has conducted a successful test of the new extended range version of its Guided Multiple Launch Rocket System munition (ER GMLRS), reaching 80 kilometers during the demonstration.
The company said the test at White Sands Missile Range in New Mexico involved firing the extended range missile from its HIMARS launcher and proved out the new capability's flight trajectory and system software performance.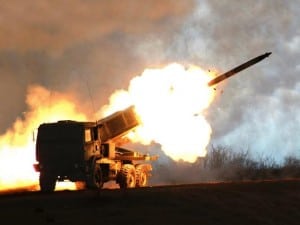 "Our new Extended-Range GMLRS significantly increases the range of the current system, offering the choice of munitions for longer distances and improving options with the same reliability and accuracy our customers have come to expect," Gaylia Campbell, vice president of Precision Fires and Combat Maneuver Systems at Lockheed Martin Missiles and Fire Control, said in a statement. "Our team is dedicated to conducting extensive developmental testing as part of our discipline to assure mission success for the U.S. Army with more flexibility for multi-domain operations."
Lockheed Martin has said previously ER-GMLRS is expected to reach ranges above 150 kilometers, doubling the capability of the current rocket (Defense Daily, Oct. 16).
In February, the State Department approved a potential $91.2 million deal with Finland for ER-GMLRS munitions (Defense Daily, Feb. 17).