Lockheed Martin [LMT] said Tuesday it has delivered the first A2 upgraded version of its M270 Multiple Launch Rocket System (MLRS) launcher to the Army.
"This delivery represents a significant milestone for Lockheed Martin as the modernized system will support the Army and allied partners for decades to come," Jay Price, Lockheed Martin Missiles and Fire Control's vice president of precision fires, said in a statement. "Our award-winning Camden facility continues to produce world-class vehicles, and this newest M270A2 launcher will continue our legacy of combat-proven reliability."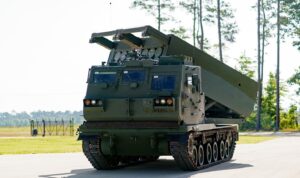 The first M270A2 MLRS delivery follows the latest $224 million Army order from late April to recapitalize additional launchers.
Lockheed Martin noted the restoration effort for MLRS is being worked in partnership with the Red River Army Depot and includes upgrading the launcher with a new 600-horsepower engine, an improved armored cab and a common fire control system.
"This upgrade provides compatibility with future munitions like the Extended-Range GMLRS and the Precision Strike Missile (PrSM)," the company wrote in its announcement. "The complete restoration ensures the M270-series launcher remains highly effective and reliable to serve the U.S. Army and partner nations through 2050."
Last April, the Army awarded Lockheed Martin a $214.7 million order covering 40 M270A2 upgrades, which followed an initial $362 million order to restore 50 decommissioned launchers in 2019 and $226 million in 2020 for 44 launchers (Defense Daily, April 28 2021).
MLRS launchers are used to fire Lockheed Martin's GMLRS rockets, ATACMS missiles and the future Precision Strike Missile currently in development.
The U.S. is currently providing Ukraine with Lockheed Martin's HIMARS launchers, with 12 systems committed to date as of the latest $400 million weapons package to aid in Kyiv's ongoing fight against Russia's invasion (Defense Daily, July 8).