The U.S. has approved another $400 million weapons package for Ukraine, including delivery of additional High Mobility Artillery Rocket System (HIMARS) launchers and a more precise type of 155mm artillery ammunition.
The latest deal to aid Ukraine in its fight against Russia's ongoing invasion is the 15th drawdown of equipment from DoD inventories and also includes additional munitions for the HIMARS, three tactical vehicles for equipment recovery, demolition munitions and counter-battery systems, according to the Pentagon.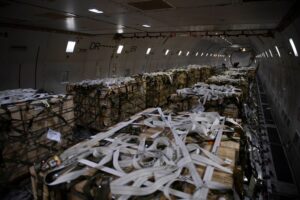 A senior defense official declined to comment on specifics related to the new 155mm artillery munitions for Ukraine, citing "operational reasons," while confirming the ammunition is compatible with the howitzers the U.S. has previously provided.
"This is a new type of 155mm artillery ammunition. It has greater precision. It offers Ukraine precise capability for specific targets. It will save ammunition. It will be more effective due to the precision. So it's a further evolution in our support for Ukraine in this battle in the Donbas," the senior defense official told reporters. "This is a capability the United States has. 'New' refers to it as a new element of our security assistance to Ukraine."
The official noted the latest package will bring the total number of HIMARS launchers committed to 12 units, following the eight that have been delivered previously, adding that reports Russia has destroyed HIMARS provided to Ukraine as "not correct."
"The Ukrainians have those systems and are making use of them," the official said.
Last week, the U.S. announced an $820 million weapons package for Ukraine that included delivery of two NASAMS air defense systems built by Norway's Kongsberg and Raytheon Technologies [RTX] (Defense Daily, July 1).
To date, the U.S. has now committed more than $8 billion in security assistance to Ukraine since the start of the Biden administration, to include more than $7.3 billion since the beginning of the Russian invasion.