Lockheed Martin [LMT] has received a new $214.7 million order from the Army to upgrade and restore 40 more Multiple Launch Rocket System (MLRS) M270 launchers.
The latest deal follows an initial $362 million order to restore 50 decommissioned launchers in 2019 and $226 million in 2020 for 44 launchers, bringing the total order to date up to 134 systems.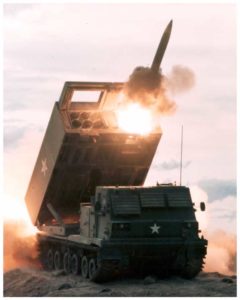 "The complete restoration and upgrade will return the system to a zero-time condition and ensure the M270-series launcher remains highly effective and reliable to serve our Army customer through 2050," Gaylia Campbell, vice president of precision fires and combat maneuver for Lockheed Martin Missiles and Fire Control, said in a statement.
The Army's plan is to eventually restore 160 MLRS launchers up to the latest M270A2 configuration, Angela Marcum, a company spokesperson, told Defense Daily.
MLRS launchers are used to fire Lockheed Martin's GMLRS rockets, ATACMS missiles and the future Precision Strike Missile currently in development.
The restoration effort, in partnership with the Red River Army Depot, involves overhauling and upgrading the launchers with new engines, improved armor cabs and the new Common Fire Control System, "which will provide compatibility with future precision fires munitions," Marcum noted.
Lockheed Martin has not delivered the first restored M270 MLRS launcher to the Army yet, according to Marcum, but it recently stood up the production line and has systems in various stages of production.