The Army has awarded a $311 million production order for Javelin missiles to Lockheed Martin [LMT] and
Raytheon Technologies [RTX], which jointly manufacture the weapon. The order includes replenishing 1,800 rounds sent to Ukraine.
The latest Javelin deal will also cover deliveries of the anti-tank missiles to Lithuania and Jordan.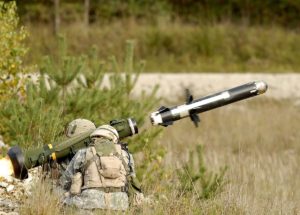 "With usage increasing across the globe, the Javelin Joint Venture is working closely with the Army to meet these increased demands and deliver this critical precision weapon system to domestic and international customers," Dave Pantano, Lockheed Martin's Javelin program director, said in a statement. "Our team continues to remain committed to delivering reliable and battle-proven products that demonstrate performance excellence."
As of Sept. 8, the U.S. has committed to sending over 8,500 Javelin missiles to Ukraine to assist in its ongoing fight against Russia's invasion.
Before Tuesday's contract, Lockheed Martin and Raytheon have received $352 million in Javelin production deals since May to assist in ramping up production to help replenish equipment stockpiles.
The Javelin deals are part of $1.2 billion in replenishment contracts the Pentagon has awarded since April, with the department having identified $7 billion in replacement actions (Defense Daily, Sept. 9).
Bill LaPlante, the Pentagon's top acquisition official, said last week his goal remains to replenish stockpiles of equipment sent to Ukraine on a 'one-to-one' basis, either with current systems or next-generation updates (Defense Daily, Sept. 7).
"That's like a Javelin F-[model], for example, are the ones in production now. Probably pretty soon we're going to switch to the next version of Javelin, the G-model, which is a different upgrade. We'll shift to that. But you start with, if you can do it, one-to-one. You start there. If you can't do one-for-one, you do something that's like the next-gen," LaPlante told Defense Daily last week.
Lockheed Martin noted the company along with Raytheon has produced more than 50,000 Javelin missiles and over 12,000 reusable Command Launch Units to date, and said the weapon is expected to remain operational with the U.S. military until 2050.
The State Department last December approved a potential $125 million Foreign Military Sale with Lithuania for 230 Javelin missiles (Defense Daily, Dec. 21 2021).