The Pentagon's top acquisition official said Wednesday his goal remains to replenish stockpiles of equipment sent to Ukraine on a 'one-to-one' basis, either with current systems or next-generation updates, as the department continues awarding deals to refill its inventories.
Bill LaPlante, under secretary of defense for acquisition and sustainment, said the Pentagon has used about half of the more than $12 billion Congress has allotted the Pentagon to help restore its inventory of weapons provided to assist Ukraine in its fight against Russia's ongoing invasion.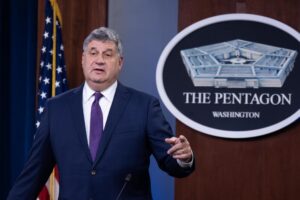 "We're already about halfway through putting that on contracts. So, industry is getting these contracts as we speak. They've been getting these contracts since May," LaPlante told attendees at the Defense News conference on Wednesday.
LaPlante cited the department's two awards in May of a $237.9 million production deal to Lockheed Martin [LMT] and Raytheon Technologies [RTX] for Javelin anti-tank missiles and a $624.6 million procurement deal to Raytheon for Stinger anti-aircraft missiles, which was the first production order since 2005.
When the Pentagon transferred the first $1.5 billion in early May from the new Ukraine Replacement Transfer Fund established in a supplemental funding bill to help ramp up production lines, LaPlante said at the time the intent was to eventually replenish stockpiles of equipment sent to Ukraine on a "one-to-one" basis (Defense Daily, May 6).
LaPlante told Defense Daily following his discussion that the goal remains in place "but in cases where you can't [replenish], you find something very similar" or a new system.
"That's like a Javelin F-[model], for example, are the ones in production now. Probably pretty soon we're going to switch to the next version of Javelin, the G-model, which is a different upgrade. We'll shift to that. But you start with, if you can do it, one-to-one. You start there. If you can't do one-for-one, you do something that's like the next-gen," LaPlante told Defense Daily.
The Army in late March released a Request for Information for its search to find a Stinger replacement, dubbed the Maneuver Short Range Air Defense Inc. 3, detailing plans to begin developing and testing new capabilities next fiscal year before beginning production of 10,000 missiles in fiscal year 2027 (Defense Daily, April 11).
Doug Bush, the Army's top acquisition official, said Wednesday the service is likely headed for a Stinger replacement competition after the RFI to industry yielded a "lot of really good responses with high-technology readiness levels" (Defense Daily, July 27).
LaPlante said the Pentagon may also look at whether it uses multi-year contracts as an option for buying critical munitions to ensure supply chain stability in the future.
"We, in the department, and with the Hill need to give a better plan. This is what I think [industry] is asking for, and I agree with it, that we're committed to these areas," LaPlante said on Wednesday. "We buy munitions and many of these things once in a single year. We don't do multi-year contracts. We do multi-year contracts for ships. We do it for airplanes. We don't do it for these other munitions. We need to do it, because that will stabilize the supply chain. That will send the signal to industry to say [the Pentagon] is in it for the long haul."