Senior Pentagon officials on Friday confirmed the department has officially moved ahead with transfering $1.5 billion to help ramp up production lines and replenish stockpiles of Javelin and Stinger missiles that have been sent to Ukraine to aid in its fight against Russia's ongoing invasion.
"It's been in the plans. We've had the notification. We're now approved for the Army to start working on that," Deputy Defense Secretary Kathleen Hicks said during a Reagan Institute discussion on Friday. "But what I can tell you is basically the approach is how to apply the funds to ramp up the production, so for Javelin potentially going up not quite double but significantly…1.5 times where they are now in monthly production. What would that take? So we're working with them right now on that. On Stinger, it's a similar set of questions around obsolete parts and planning efforts in addition to production."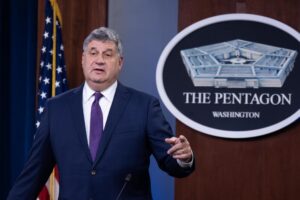 The $1.5 billion transfer, originally reported by Inside Defense, is pulled from the $3.5 billion Ukraine Replacement Transfer Fund appropriated in the $13.6 billion supplemental spending bill for emergency aid to Ukraine passed in mid-March along with the fiscal year 2022 omnibus (Defense Daily, March 11).
Following the move, the Pentagon announced Friday evening the Army has awarded a $237.9 million deal for Javelin production to Lockheed Martin [LMT] and Raytheon Technologies [RTX], which jointly manufacture the anti-tank missile.
William LaPlante, the Pentagon's top acquisition official, told reporters earlier on Friday that a deal to start replenishing the stockpile of Stinger anti-aircraft missiles, built by Raytheon, is expected by the end of May.
LaPlante said the intent is to eventually replenish stockpiles of equipment sent to Ukraine on a "one-to-one" basis, while noting that will likely require several funding efforts before production lines can reach that capacity.
"The reason it may not be directly one-to-one in the first tranche [of funding] is it just depends on when the system was bought and buying it today. But the intent is to get to a one-to-one between a combination of these replenishment funds," LaPlante told reporters.
The Pentagon is also working through assessing if systems should be replenished with newer versions of the same capabilities, such as backfilling the F-model Javelin with the new G-model, or the best path for backfilling reserves of equipment that no longer has an active production line.
"So of course one of our decisions to make…is do we want to replenish [Javelin], and probably we will, with the G-model. So it's not quite a one-for-one replacement," LaPlante said. "Now you think of some systems that are much older than that, it's going to be harder. For example, the M777s as an example. We don't have that in production anymore. So what's the replacement equivalent for an M777? We're going through all those calculations right now. So it's one-for-one to the best you can do or the equivalent of that."
LaPlante noted that $5.4 billion of the new $33 billion Ukraine aid supplemental request recently delivered to Congress would be for additional efforts to replenish weapons stockpiles (Defense Daily, April 28).
During his briefing, LaPlante said the Pentagon has also received over 300 proposals from industry in response to a recent Request for Information notice that sought information on existing capabilities that can be procured and exported rapidly to support Ukraine's fight.
"As we work to mitigate supply chain constraints, speed up production lines, get contracting underway, we have also asked industry to present options for new systems that can meet strategic objectives," LaPlante said.
LaPlante also gave a breakdown of the eight contracts totaling $136.8 million DoD has awarded so far as part of the $300 million military aid package announced in early April that is being provided through the Ukraine Security Assistance Initiative, where weapons are procured from industry rather than drawn from existing stockpiles (Defense Daily, April 3).
The deals include $61.4 million for communication devices, $22.6 million for Advanced Precision Kill Weapon Systems, $19.7 million for Puma drones, $7.2 million for M1151 Humvees, $4.9 million for combat medical equipment, $2 million for M750R binoculars, and new $17.8 million deal for Switchblade drones to be announced later on Friday.
To date, the U.S. has committed more than $4 billion in security assistance to Ukraine over the last year, to include more than $3.4 billion since the beginning of the Russian invasion.