President Biden on Thursday detailed a new $33 billion Ukraine aid supplemental funding request, to include another $16 billion for Department of Defense efforts to supply Kyiv with weapons and bolster efforts to support operations on NATO's eastern flank.
The White House said military equipment deliveries covered by the new funding request could include additional artillery systems, armored vehicles, anti-armor and anti-air weapons, cyber capabilities as well as "advanced air defense systems."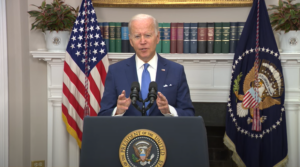 "We've almost exhausted, what we call the fancy phrase, the 'drawdown authority' that Congress authorized for Ukraine in a bipartisan spending bill last month. Basically, we're out of money. And so that's why today, in order to sustain Ukraine as it continues to fight, I'm sending Congress a supplemental budget request that's going to keep weapons and ammunition flowing without interruption to the brave Ukrainian fighters and continue delivering economic and humanitarian assistance to the Ukrainian people," Biden said during remarks on Thursday.
Biden urged Congress to get the new funding "approved as quickly as possible" and vowed the U.S. will continue to supply military assistance to Ukraine "as long as the assaults and atrocities continue."
"The cost of this fight is not cheap but caving to aggression is going to be more costly if we allow it to happen. We either back the Ukrainian people as they defend their country or we stand by as the Russians continue their atrocities and aggression in Ukraine," Biden said.
The $1.5 trillion fiscal year 2022 omnibus spending package passed in mid-March included a $13.6 billion supplemental spending bill for emergency aid to Ukraine, which covered $3 billion for "European Command operations mission support, the deployment of personnel to the region, and intelligence support" and $3.5 billion to replenish defense stocks for equipment provided to Ukraine (Defense Daily, March 11).
Pentagon Comptroller Mike McCord told lawmakers on Wednesday the department "will have pretty much used" all of the drawdown authority and Ukraine Security Assistance Initiative Funding by the end of this week (Defense Daily, April 27).
Of the total $33 billion supplemental funding request to Congress, $20.4 billion would be dedicated for additional security and military assistance to Ukraine to include $5 billion for drawdown authority and another $6 billion for the Ukraine Security Assistance Initiative.
Defense Secretary Lloyd Austin during a press briefing Thursday afternoon urged Congress to approve the request "without delay," adding it also includes $5 billion for the Pentagon "to help us pay for the operational costs of bolstering NATO's eastern flank as well as additional investments."
"For instance, it features something we call the Critical Munitions Acquisition Fund, which will allow the department to purchase and establish a strategic reserve of vital munitions, like anti-aircraft and anti-tank munitions to surge for this crisis and, quite frankly, crises to come," Austin told reporters.
Biden also noted the supplemental request supports using the Defense Production Act "to expand domestic production and the reserve of critical materials, like nickel and lithium, that have been disrupted by" Russia's invasion of Ukraine.
To date, the U.S. has committed more than $4 billion in security assistance to Ukraine over the last year, to include more than $3.4 billion since the beginning of the Russian invasion, with Biden noting deliveries have included "thousands of anti-armor [and] anti-missile [systems], helicopters, drones, grenade launchers, machine guns, rifles, radar systems, more than 50 million rounds of ammunition."
"The United States alone has provided 10 anti-armor systems for every Russian tank that is in Ukraine," Biden said.
On April 22, the Defense Logistics Agency released a Request For Information notice soliciting information from industry through May 6 on existing capabilities that can be procured and exported rapidly to support Ukraine's fight.
"In particular, the Department is exploring options which would accelerate production and build more capacity across the industrial base for weapons and equipment that can be rapidly exported, deployed with minimal training, and that are proven effective in the battlefield," officials write in the RFI. "To that end, the Department seeks information from across industry on weapons systems or other commercial capabilities related to air defense, anti-armor, anti-personnel, coastal defense, counter battery, unmanned aerial systems, and communications (e.g., secure radios, satellite internet)."