The Pentagon may consider releasing another broad call to industry for information on new capabilities that could be procured to support Ukraine after finding the first effort yielded promising technologies, according to the department's top acquisition official.
Bill LaPlante, under secretary of defense for acquisition sustainment, said last week the Request for Information released in April received 1,300 responses before the department selected about 15 systems that may be included in subsequent Ukraine security aid packages.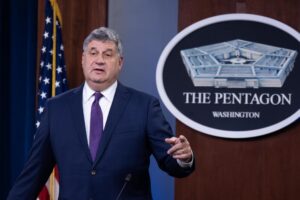 "It could be something similar. The response we got was so positive, so it's a model we want to use. But we also don't want to be making industry run around writing proposals unless we have the money. So I'm trying to be mindful and respectful of industry. But I could see us doing another one that's updated because know we now more, the conflict has changed a bit, and we also know more about the world situation. So I can see us doing another one," LaPlante told Defense Daily following his discussion at an event in Washington, D.C., last week.
LaPlante told the Defense News Conference the RFI from April sought information on capabilities that could be procured and rapidly exported in 30-, 60- or 90-day timeframes.
"We then, over the next month or two, working with European Command who talk regularly with the Ukrainians, have been vetting those capabilities and going through them. Now with [Ukraine Security Assistance Initiative funds]…that's where this stuff is going," LaPlante said.
The RFI was released by the Defense Logistic Agency on April 22 and cited interest in technologies that could be "deployed with minimal training," to include "weapons systems or other commercial capabilities related to air defense, anti-armor, anti-personnel, coastal defense, counter battery, unmanned aerial systems, and communications (e.g., secure radios, satellite internet)" (Defense Daily, April 28).
LaPlante cited the L3Harris' [LHX] VAMPIRE system as an idea that was pitched through the RFI and subsequently included a security aid package.
"We've got probably about 15 others that are in the pipeline coming from the RFI. So it's been a great opportunity for us to do it," LaPlante said.
L3Harris has said VAMPIRE, which was first developed in early 2021, is capable of being mounted on "virtually any type of standard pickup truck, commercial or tactical vehicle by two people, in two hours, using common tools" and can be equipped to fire Advanced Precision Kill Weapon System (APKWS) or other laser-guided munitions (Defense Daily, Aug. 26).
VAMPIRE was included in the new $3 billion Ukraine security aid package announced in late August that is designed to meet Kyiv's mid- and long-term security requirements, with capabilities to be procured from industry through the Ukraine Security Assistance Initiative and delivered over the course of months to years (Defense Daily, Aug. 24).