L3Harris [LHX] has confirmed it makes the "VAMPIRE" counter-drone system included in the U.S.' new $3 billion Ukraine security aid package and said it's confident it can deliver the capability within nine months once officially under contract.
"Once we receive a contract from DoD, detailing exact order numbers and requirements, we can roll into production and begin work to support this important security assistance initiative. We are very confident we can deliver within the nine-month delivery window cited by DoD on Wednesday," Paul Swiergosz, an L3Harris spokesman, told Defense Daily
.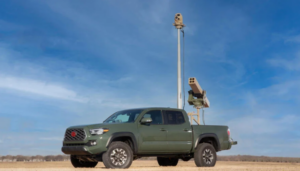 Swiergosz said L3Harris began developing VAMPIRE, which stands for Vehicle-Agnostic Modular Palletized ISR Rocket Equipment, in early 2021 "after realizing a need for lightly-armed forces to have the capability to engage ground-to-ground and ground-to-air targets at greater range."
"In plain English it's a low-cost, rapidly deployable weapon system that gives ground forces the agility and ability to quickly and accurately engage targets both on the ground or in the air," Swiergosz said.
Swiergosz said L3Harris sees VAMPIRE as not just a counter-drone capability, describing it as "designed to be a disruptive, agile, multi-purpose weapon system."
VAMPIRE is capable of being mounted on "virtually any type of standard pickup truck, commercial or tactical vehicle by two people, in two hours, using common tools," according to Swiergosz, and can be equipped to fire Advanced Precision Kill Weapon System (APKWS) or other laser-guided munitions.
There are no current customers for VAMPIRE, with Swiergosz noting that L3Harris responded to DoD's call to industry in April seeking potential capabilities that could be supplied to Ukraine with information on the new system.
The new $3 billion Ukraine aid package is designed to meet Kyiv's mid- and long-term security requirements, U.S. officials said this week, and includes capabilities to be procured from industry through the Ukraine Security Assistance Initiative (USAI), which will be delivered over the course of months to years (Defense Daily, Aug. 24).
When asked about VAMPIRE during a press briefing detailing the new weapons aid for Ukraine on Wednesday, Under Secretary of Defense for Policy Colin Kahl only offered that it was a "kinetic system" that uses "small missiles, essentially, to shoot UAVs out of the sky."
Swiergosz added that L3Harris has been supporting the Ukrainian Ministry of Defense with capabilities "for several years."
"From the outset of the current conflict, our advanced tactical radios and SATCOM terminals enabled Ukrainian warfighters to communicate crucial information safely, while our night-vision and electro-optical capabilities allowed the Ukrainian military to track enemy forces and better plan both strategic and tactical responses. Consider the Vampire system a continuation of that long-standing support – and we are proud to provide the Ukrainian military with critical capabilities as they fight to defend their country and democracy in Europe," Swiergosz said.