DARPA said Wednesday it has successfully conducted the first flight test of its Operational Fires (OpFires) program to develop a ground-launched hypersonic missile capability.
The Lockheed Martin [LMT]-built system for OpFires, which includes a
Northrop Grumman [NOC]-designed rocket motor, achieved all test objectives, including the first time launching from a Marine Corps logistics truck and using Army artillery fire control systems to initiate the demonstration.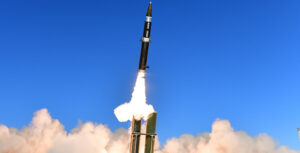 "This OpFires launch event is a critical step toward offering a missile that is ready to deliver hypersonic payloads in the Army's mid-range spectrum," Brad Fiebig, Lockheed Martin's director of tactical missiles advanced programs, said in a statement. "In just 29 months, the DARPA-Lockheed Martin team has established controlled flight and demonstrated 70 percent of system capability."
DARPA said the test, conducted at White Sands Missile Range in New Mexico, demonstrated technology maturation of OpFires key components, including the first stage rocket motor, missile canister and missile round pallet (MRP).
The agency noted the design of the MRP eliminates the need for a unique transporter erector launcher (TEL) and allows OpFires to be launched from Army and Marine logistics vehicles, such as Palletized Load System trucks.
"This is a promising step toward a TEL on-demand capability for accurately firing medium-range missiles from highly agile, readily available logistics trucks that are already in both the U.S. Army and U.S. Marine Corps inventory," Air Force Lt. Col. Joshua Stults, DARPA's OpFires program manager, said in a statement. "Our successful agile hardware development approach prioritizes full-scale flight testing that will inform further design maturation this year."
DARPA awarded Lockheed Martin a $32 million deal in January 2020 to move into Phase 3 of OpFires, to work on weapon system integration leading into critical design review and then flight testing (Defense Daily, Jan. 17).
For the Army's Long-Range Hypersonic Weapon, of which the first operational battery will be fielded by the end of FY '23, Lockheed Martin is serving as the weapon systems integrator, while Dynetics [LDOS] is tasked with producing the Common-Hypersonic Glide Body.
The Air Force also announced on Wednesday that a prototype Lockheed Martin AGM-183A Air-Launched Rapid Response Weapon (ARRW) scored its second booster flight test success on July 12 off the southern California coast (Defense Daily, July 13).