Point Blank Enterprises (PBE), a supplier of body and lightweight platform armor, submitted a proposal for the Army's Optionally Manned Fighting Vehicle competition, the company announced on April 26, highlighting the service's push to bring in participation from more non-traditional partners.
PBE cited the Army's focus on digital design upfront and an emphasis on taking an open systems approach as key factors for getting involved with the rebooted Bradley replacement program.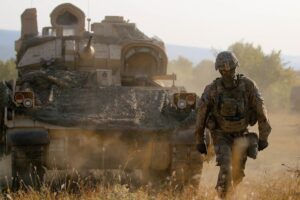 "We see the government's non-traditional OMFV program approach as a perfect opportunity to continue to diversify PBE by leveraging our core competencies in collaborative digital engineering design management, survivability systems engineering, and forming and leading teams of some of the industry's best large and small defense companies," Mark Edwards, PBE's executive vice president, said in a statement. "Our team's OMFV proposed concept design is a truly innovative approach with robust survivability, mobility, interoperability and lethality."
Edwards said the team it assembled for OMFV, which includes Keshik Mobile Power Systems, is made up of "large, experienced defense companies and a large group of innovative small businesses with advanced technologies that may not have had the chance to participate if not for this unique Army program."
PBE joins a list of major combat vehicles manufacturers vying for OMFV digital design deals, set to be awarded in June, to include General Dynamics [GD], BAE Systems, Oshkosh Defense [OSK] in partnership with South Korea's Hanwha and a team of Germany's Rheinmetall with Raytheon Technologies [RTX], Textron [TXT] and L3Harris Technologies [LHX].
Maj. Gen. Ross Coffman, director of the Next-Generation Combat Vehicle Cross Functional Team, said in March the Army expected to see a maximized field of competitors for OMFV when the proposal deadline closed on April 16, to include traditional and non-traditional partners (Defense Daily, March 15). 
Keshik Mobile Power Systems officials noted the PBE team will offer "truly modular and technology-agnostic open systems approach for power, information, and physical architectures" and that the platform will leverage "robust mobility and agility through a distributed redundant hybrid electric drive train, best-in-class survivability, unprecedented exportable electric power."
"The PBE design concept eclipses near-peer capabilities with the ability to continuously transform and maintain supremacy for generations to come," James Blackburn, Keshik's CEO, said in a statement. 
PBE notes it has been in business for nearly 50 years producing "high performance protective solutions, including bullet, fragmentation, and stab resistant apparel" and said it is "the largest global supplier of ballistic armor systems and systems integrator in the world."