Lockheed Martin [LMT] will conduct the first demonstration of the extended range version of its Guided Multiple Launch Rocket System (GMLRS) in November, with the company also preparing for the next Precision Strike Missile flight tests beginning in the second quarter of 2021.
The new Extended Range GMLRS is expected to reach ranges above 150 kilometers, doubling the capability of the current rocket.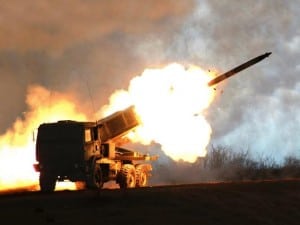 "We're looking forward to demonstrating this new capability that will extend the range of our highly accurate and reliable GMLRS round," Gaylia Campbell, vice president of precision fires and combat maneuver systems for Lockheed Martin Missiles and Fire Control, said. "The new round will increase units' capabilities and flexibility while allowing improved battlespace coverage."
Next month's test will take place at White Sands Missile Range in New Mexico and will also look to demonstrate the Extended Range GMLRS' upgraded pod designed to improve reload operations, according to the company.
Lockheed Martin is also currently in production of the four missiles for the three upcoming PrSM flight tests, which will include long-range demonstrations and a side-by-side firing.
The Army awarded Lockheed Martin a $180.7 million deal in June to move onto the Enhanced Technical Maturation and Risk Reduction (ETMRR) phase for PrSM, which is the service's program to replace its legacy ATACMS missiles (Defense Daily, June 17).
An engineering and manufacturing development contract is set to be awarded in 2021 and will cover an initial lot of 30 missiles, with a full-rate production decision slated for 2024.
"Lockheed Martin has validated the design and performance of the baseline tactical missile and is working with the Army on Engineering Design Testing, production readiness and fielding requirements to support the future needs of the soldier," the company said in a statement.