The State Department approved a potential $300 million Foreign Military Sale (FMS) of the Naval Strike Missile (NSM) Coastal Defense System (CDS) to Romania.
The Defense Security Cooperation Agency (DSCA) notified Congress of the sale on Friday.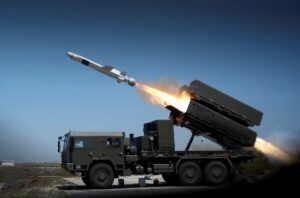 The sale covers two CDSs made of up to 10 Link-16 Multifunctional Information Distribution System – Joint Tactical Radio Systems (MIDS-JTRS). It also includes two Coastal Defense System Fire Distribution Centers; four Mobile Launch Vehicles; Transport Loading Vehicles; an undisclosed amount of Naval Strike Missiles; and other associated equipment and logistics support.
The primary contractor under this FMS is Raytheon Technologies [RTX].
DSCA said Romania will use this "long-range, precision strike weapon to enhance mission effectiveness, survivability, and NATO interoperability in current and future missions and operations."
It added the NSM CDS will improve Romania's maritime defense capabilities in the Black Sea and increase interoperability with the U.S.
The Naval Strike Missile is a long-range precision anti-ship cruise missile that can hit enemy ships at up to 100 nautical miles away while flying at sea-skimming altitudes to avoid detection. The missile was originally developed by Norway's Kongsberg, which is now working with Raytheon to integrate an Over The Horizon (OTH) capability for U.S. Navy purposes.
Kongsberg and Raytheon initially announced cooperation on the NSM in a 2015 teaming agreement (Defense Daily, April 8, 2015).
According to a Kongsberg product website, the CDS using NSM features a "net centric architecture which enables multiple simultaneous engagements" and OTH targeting. The company argued this system "can be closely integrated and adapted to a country's adjacent weapons and command and control systems. This expands the defended area and enhances the total fighting capability of the force."