The U.K. government last week announced the Royal Navy will outfit 11 ships with the Norwegian Kongsberg Naval Strike Missile (NSM).
The Defense Ministry said the NSMs are due to replace Harpoon surface-to-surface missiles on 11 Type 23 frigates and Type 45 destroyers in a collaboration agreement with the Norwegian government. The work will start by being fitted on three ships in 2023.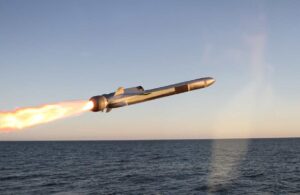 The first ship receiving the NSMs will be ready for operations onboard in a little over 12 months, the Defense Ministry said in a statement. It did not disclose which specific ships will receive the missile first.
Britain's Babcock and BAE Systems will lead NSM integration with support from Kongsberg, the original NSM manufacturer.
The Defense Ministry underscored the fifth-generation NSM targets ships and land targets at over 100 nautical miles while using integrated sensors and autonomous target recognition. The missiles can also fly at sea-skimming altitudes to avoid enemy radar.
Ben Wallace, U.K. Defense Secretary, announced the deal during a visit onboard the Royal Navy aircraft carrier, the HMS Queen Elizabeth, during a visit to Norway last week.
"We have a long history of defense cooperation with Norway. This new agreement cements our partnership with one of our closest allies, whilst strengthening our Royal Navy with a new surface to surface strike capability," Wallace said in a statement.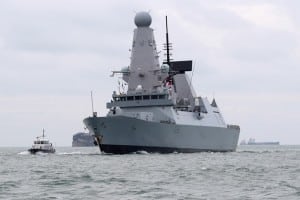 The Defense Ministry noted they will be joining the U.S., Norway, Poland, Germany, Canada and Australia in using NSMs.
In recent years, the U.S. Marine Corps has started testing using the NSM fired from a Naval Marine Expeditionary Ship Interdiction System (NMESIS) using a modified Joint Light Tactical Vehicle against naval targets (Defense Daily, April 30, 2021).
The U.S. Navy already uses the NSM as the Over-The-Horizon capability on the Littoral Combat Ships and plans to use it for the future Constellation-class frigates. The U.S. version of the NSM entails Kongsberg working with Raytheon Technologies [RTX] to integrate it into U.S. systems.